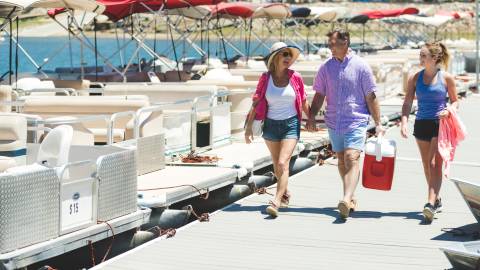 Labor Day Weekend in Big Bear Lake!
Posted: 06/01/22 | By Kelly Garfield
Big Bear Lake is the perfect summer setting for those memories. Labor Day is celebrated annually on the first Monday of September. It was originally organized to honor numerous labor associations' strengths and contributions to the United States. Labor Day typically marks the end of the summer season and a last chance to organize that family getaway before the school year and cooler weather. Big Bear Lake is that perfect destination that is close to home, yet lightyears from the grind!

Big Bear Lake Water Activities
Big Bear's central lake is the major summer holiday – you'll find yourself wanting to take a dip or ride a boat at least once during your visit. Big Bear Lake offers fishing, swimming, boat rentals, tours, wake sports and jet skiing. A little picnic on the shoreline may also be just the ticket for slowing things down and taking in the beautiful surroundings. Just be sure to pack up all trash and leave your picnic spot...well spotless.
Hike It or Bike It
Big Bear is home to over 100 miles of National Forest trails. From easy strolls along paved pathways and scenic woods to challenging treks through changing landscapes, there's a route for every ability level. Explore trails and start planning today, and remember to keep our trails clear of litter, and even pick up any you find along the way!
Have A BBQ
Renting a cabin? Host a BBQ in the kitchen or on the patio to enjoy with friends and family. Big Bear Lake is home to two major grocery stores and some small business grocers for your shopping needs. We recommend shopping early in the day to beat the crowds.
Family-Friendly Fun
There are plenty of entertainment options for families here in Big Bear. Ride down a year-round taboggan slide or the NEW Mineshaft Coaster at Alpine Slide at Magic Mountain. Or, race around the go-kart track and navigate a high flying obstacle course at Big Bear Speedway & Ropes Course.
Adults and kids alike will enjoy getting to know Big Bear history and wildlife at Big Bear Alpine Zoo and a fun scavenger hunt with Riddle Routes or Urban Adventure Quest. Or solve one of many mysteries at Mountain Room Escapes!

With the lake and gorgeous outdoor setting, you'll find Big Bear Lake to be the perfect destination this Labor Day and for more holidays to come.