Care For Big Bear
"How wonderful it is that nobody need wait a single moment before starting to improve the world." - Anne Frank
Big Bear has about 12,000 full-time residents throughout the valley. On average, 3,000,000 guests visit our destination each year. Your vacation puts food on our tables and a roof over our heads, there's virtually no business in Big Bear Lake that isn't impacted by tourism spending. For that, we thank you for your trip to our slice of paradise!
While you're here, please help us Care For Big Bear by following our Best Practices and Principals and considering one of the many ways you can volunteer or donate to Preserve Our Natural Playground.
Community Projects
Since 2021, Care For Big Bear has partnered with local organizations and businesses in the summer months to support trash clean-up efforts in the valley. We've been thrilled to work alongside locals and visitors alike on shoreline clean-ups, city park clean-ups, and trail clean-ups. CFBB has been honored to work with important local organizations like the Southern California Mountains Foundation to promote sustainability and stewardship during special events on Public Lands Day and National Trails Day.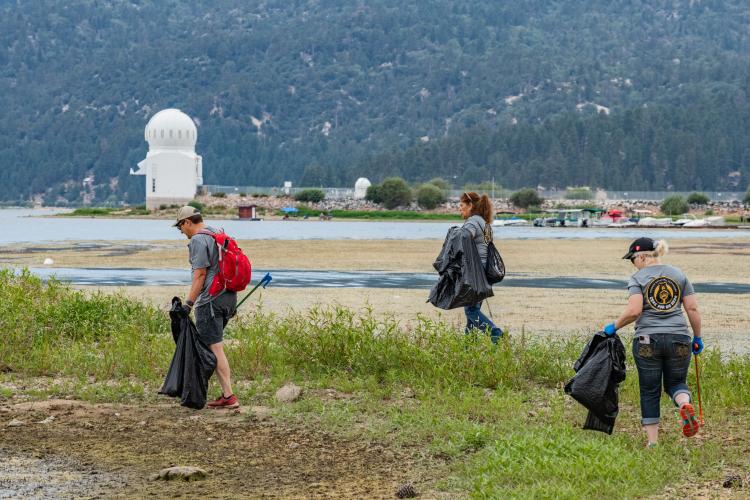 Poppy Awards 2022 Winner of the Destination Stewardship & Sustainable Travel Award

Care For Big Bear was awarded the 2022 Poppy Award for Destination Stewardship & Sustainable Travel Award!

Operation Porta-Potties & Dumpsters
Since 2020, Care For Big Bear has funded the installation of additional porta-potties and dumpsters throughout the Valley. Pitch in by tossing your litter - and any you find - into these receptacles. Together we can keep Big Bear beautiful for generations to come!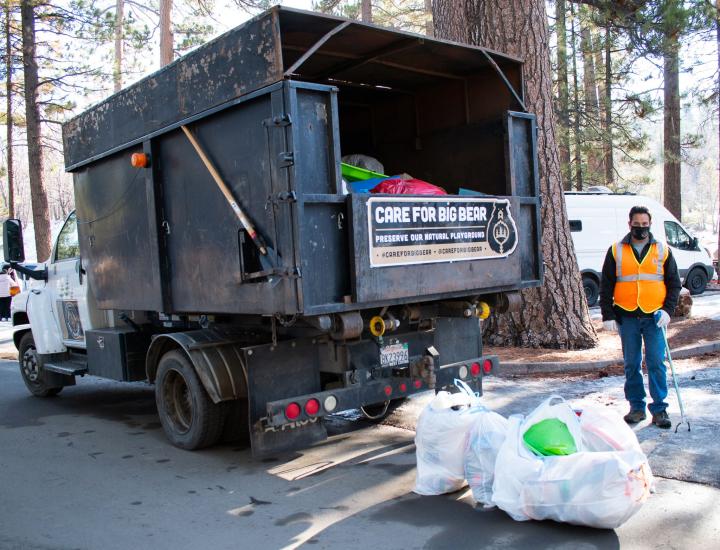 Big Bear's Urban Conservation Corp
The Mountains Foundation's Urban Conservation Corp started a Big Bear Valley crew that works to clear litter from city parks, trail heads, picnic areas, and the like. They are also supporting construction work of the Stanfield Boardwalk and route extension. The crew works with the City of Big Bear Lake focusing on areas in need of cleanup or repair and is another step forward in sustainability efforts in the valley.
A More Beautiful Valley, One Pound at a Time
Each winter, Care For Big Bear partners with local landscapers NativeScapes on a trash cleanup initiative. Between December 2021 and February 2022, NativeScapes collected over 5,000 pounds of garbage from National Forest recreation areas. NativeScapes owner Marty Murie said most of the garbage is sled debris and small items like paper and food wrappers. While Care For Big Bear's partnership focuses on winter months, Murie continues the cleanup effort in the summer averaging 500 pounds of trash each month.
Sustainable Travel in Big Bear Lake
On Your Way
Road Etiquette
Driving the mountain can be difficult for some drivers. Be aware of safe driving speeds and if traffic accumulates behind you, please use turn-outs to let traffic safely flow smoothly. Pulling off at these turnouts for snow play in winter is not recommended. Turnouts help the flow of traffic, but too many cars parked for long periods of time becomes dangerous!
While Visit Big Bear recommends snow tubing at Big Bear Snow Play and Alpine Slide at Magic Mountain - the U.S. Forest Service does allow snow play in the San Bernardino National Forest. Please play responsibly and away from traffic and closed areas like the Bald Eagle Habitat.
Winter Driving

You must carry tire chains in your vehicle during the winter months. Additionally, you should carry a sturdy shovel and cat litter - or gravel - should you need to dig out of a berm or create additional traction on icy roads.
During Your Stay
Treat Our House Like Your House

One of Big Bear Lake's charms is that most businesses, cabins and lodges are locally-owned. It's one of the reasons why your stay means so much to the livelihood of Big Bear Lake residents. Kindly treat these spaces with the same respect you should show your own home and your neighbors' homes. Do not leave trash on private property or allow it to blow away. We practice the seven principles of Leave No Trace, and we encourage you to do so too! Every year, thousands of broken sleds and countless pieces of trash are left behind - in the forest and along the roads - please do not be a part of this statistic.
Think About Energy & Water Usage
Turn off lights when you leave a room and try to open windows or wear additional clothing instead of adjusting the thermostat. Conserve water by taking shorter showers and avoid high water use activities. Also, help us preserve our night skies by switching off unused indoor and outdoor lights after dark. Tips for Traveling Green
Safety
Lake Ice - Please stay off lake ice! Big Bear Lake's ice is thin through the winter and not suitable for walking or playing. The risk to your life - and those of rescuers if you fall through - is not worth it. Hefty fines await those who violate this county order.
Snow Play - Sledding near and into streets is extremely dangerous as cars use roadways year-round. Do not use turnouts to park for snow play. Other travelers will need them to put chains on, to let other drivers pass, and to pull over for emergencies.
Swimming - In the summer months, swimmers must stay within 50 feet of shore. Swimming off of boats is not recommended particularly without a life vest. Every year tragic drownings occur in Big Bear Lake. Many of these victims know how to swim but are not prepared for the lake environment which includes very cold water temps, currents, and exhaustion from altitude. Stay alive, wear a life vest!
Enjoying Nature Responsibly
Think About Your Impact
When using trails, keep to existing routes and do not create new ones. Do not leave trash on trails and pick up any garbage you may find along the way. Do not take away rocks, plants, or other natural objects, and do not approach wildlife. When camping, you must stay in developed campgrounds that are open per National Forest allowance. Also, help us preserve our night skies by switching off unused indoor and outdoor lights after dark. Learn the 7 Principles of Leave No Trace

Think About Fire Danger
One careless match, one burning cigarette tossed out the window, or one neglected campfire can destroy the homes of both residents and our precious wildlife. Learn about the One Less Spark Campaign
Dumpster Locations
When hiking, fishing, or picnicking we ask that you dispose of all refuse appropriately. Dumpsters can be found at the following locations in the Valley. If you find a dumpster or trash can that is full or overflowing, kindly take your trash to a Clean Bear Site or dispose of it at your accommodations.

Juniper Point Picnic Area
Aspen Glen Picnic Area
Woodland Trailhead
Cougar Crest Trailhead
Alpine Pedal Path at Elementary School Crossing
East Public Boat Launch Ramp
City Public Parking Lots
The Civic Center Campus
Stanfield Cutoff
Electric Car Charging Stations
EV Charging stations are available at the Pennsylvania Parking Lot. Please be advised that public EV stations are extremely limited. It is not advised to drive electric cars to Big Bear unless you have researched if your lodging can provide a charging station.

New Tesla Super Chargers now at Village Pizza. Call ahead before using.
Public Restrooms
Public restrooms are located at:

Bartlett Public Parking Lot
Pennsylvania Public Parking Lot
Knickerbocker Public Parking Lot
Civic Center Campus
Rotary Park
Boulder Bay Park
Stanfield Cutoff
Cougar Crest Trailhead
Woodland Trailhead
Aspen Glen Picnic Area
Juniper Point Picnic Area
East Public Boat Launch Ramp
Parks & Rec Locations

Addresses & Info

Meadow Park (Big Bear Lake)
Ski Beach (Big Bear Lake)
Sugarloaf Park
Miller Park (Fawnskin)
Dana Point Park (Fawnskin)
Erwin Lake Park
Tennis Ranch (Erwin Lake)
Volunteer & Conservation Programs
Learn how to contribute to conservation efforts and support sustainable tourism on our Get Involved page. Volunteer opportunities abound and anyone can be involved!
Show Us How You Care For Big Bear!