Care For Big Bear
"How wonderful it is that nobody need wait a single moment before starting to improve the world." - Anne Frank
Big Bear has about 12,000 full-time residents throughout the valley. On average, 3,000,000 guests visit our destination each year, many for winter snow and skiing. Your vacation puts food on our tables and a roof over our heads. There's virtually no business in Big Bear Lake that isn't impacted by tourism spending. For that, we graciously thank you for considering a trip to our slice of paradise!

While you're here, please help us Care For Big Bear by following our Best Practices and Principals and considering one of the many ways you can volunteer or donate to Preserve Our Natural Playground.
A More Beautiful Valley, One Pound at a Time
In 2020, Care For Big Bear began a partnership with local landscapers NativeScapes on a trash cleanup initiative. Between December 2021 and February 2022, NativeScapes collected over 5,000 pounds of garbage from National Forest recreation areas. NativeScapes owner Marty Murie said most of the garbage is sled debris and small items like paper and food wrappers. While Care For Big Bear's partnership focuses on winter months, Murie continues the cleanup effort in the summer averaging 500 pounds of trash each month.
The Mountains Foundation's Urban Conservation Corp has recently started a Big Bear Valley centric crew that works weekly to clear litter from city parks, trail heads, picnic areas, and the like. They also have been supporting construction work of the soon-to-be-repaired Stanfield Boardwalk and route extension. The crew works with the City of Big Bear Lake to focus on areas in need of cleanup or repair and is another step forward in sustainability efforts in the valley.
Poppy Awards 2022 Winner of the Destination Stewardship & Sustainable Travel Award
Care For Big Bear was awarded the 2022 Poppy Award for Destination Stewardship & Sustainable Travel Award!
"The Visit California Poppy Awards are a biennial contest that honors the best and brightest of California tourism. Winners are selected by a panel of industry marketing experts, submissions are reviewed by Visit California staff and blind judged by industry committee leadership. This award recognized that even during the pandemic, some parts of California continued to see environmental and management pressure points due to large influxes of visitors. This category recognizes efforts to reset and create a balanced recovery — one that continues to deliver economic benefits but also addresses negative environmental and socio-cultural impacts."

Operation Porta-Potties & Dumpsters
Since 2020, Care For Big Bear has funded the installation of additional porta-potties and dumpsters throughout the Valley such as Forest Service parking lots, picnic areas, and other high traffic areas. Keep an eye out for the Care For Big Bear logo and pitch in by tossing your litter - and any you find - into these receptacles. Together we can keep Big Bear beautiful and sustainable for generations to come!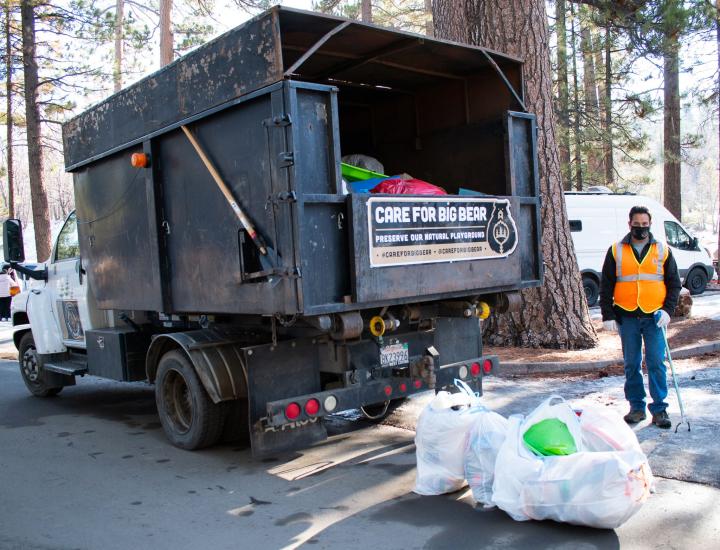 Big Bear Lake FAQs
Dumpster Locations
Public Restroom Locations
Show Us How You Care For Big Bear!
Volunteering & Conservation Programs