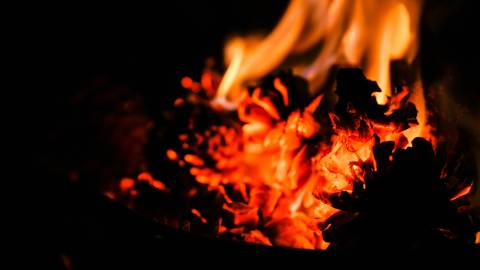 Campfire Safety & Wildfire Prevention
Posted: 06/12/20
Camping offers so many joys for families and outdoor enthusiasts, and nothing completes the experience like a crackling campfire to roast marshmallows. However, the dangers of mishandled and illegal fires are real and can have devastating effects on our mountain community and surrounding National Forest.
Where Campfires Are Permitted
The San Bernardino National Forest currently has restrictions in place regarding campfires. Remember that regulations governing campfires are specific to each National Forest. Wood and charcoal campfires are allowed only within agency-provided fire rings or designated sites in:
Developed Campgrounds - Many developed campgrounds offer amenities like RV hookups, fire rings, firewood sales, picnic tables, restrooms, and more. Campfire permit required.
Picnic Areas - Designated picnic areas may have BBQ grills provided with appropriate disposal units for hot coals.

Campfires are not allowed anywhere else at any time of the year. It is also illegal to build a fire while camping remotely (outside of a designated camping area). Additional restrictions on campfires may be implemented as fire danger increases, always check with the local Ranger Station before heading out to your site. A citation for violating fire restrictions prompts a mandatory court appearance. It is a federal offense punishable as a Class B misdemeanor, by a fine of not more than $5,000 for an individual or $10,000 for an organization, or imprisonment for not more than six (6) months or both.

Please Read Current Fire Restrictions and FAQs regarding fire safety and forest usage regulations. A few are listed here:
Smoking is limited to enclosed vehicles, developed recreation sites, and areas cleared of vegetation three feet in diameter. Even on these approved sites, a 3-foot brush clearing is required, free of ignitable fuels around the smoker. Smoking limitations may increase with fire danger levels.
You must obtain a California Campfire Permit if you plan to build a campfire in a yellow post site or use a stove unless you are in a developed recreation area (campground or picnic area). Campfires are never permitted outside yellow post sites, picnic areas or campgrounds on the San Bernardino National Forest. Permits are free to obtain.

Gas, liquid or jelly petroleum-fueled stoves are allowed in developed campgrounds, developed picnic areas, and undeveloped camping areas. They require a California Campfire Permit. There is a detailed set of rules and regulations in place for undeveloped camping because of fire danger and the impact of vehicles or horses in the Forest. Additional restrictions may be implemented as fire danger increases, check with the local Ranger Station.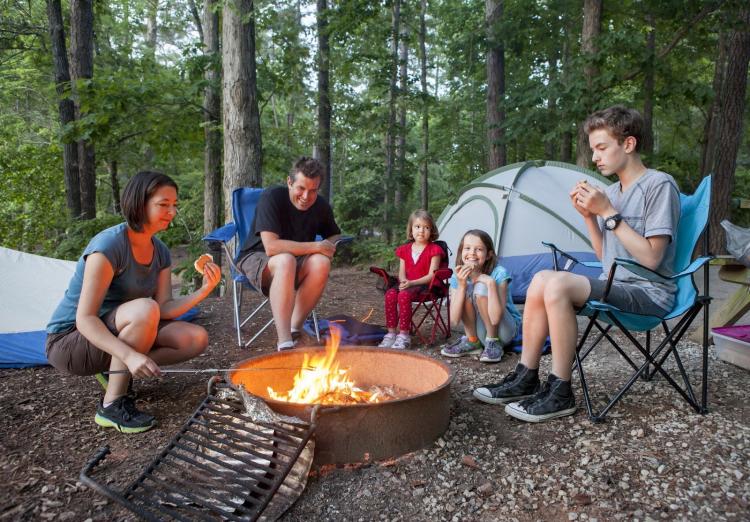 "We know everyone enjoys having campfires while recreating outdoors...however, the public needs to be mindful of the conditions and where they are wanting to have campfires, in order to be safe." San Bernardino National Forest Fire Chief Jaime Gamboa
Campfire Safety
Extinguishing your campfire properly and completely is crucial to avoiding accidental wildfires. One of the biggest mistakes you can make is leave a fire pit without ensuring that flames aren't still smoldering under the surface. Wildfires can and have smoldered underground and reignited dead leaf matter or even tree roots. The California Dept. of Forestry and Fire Protection recommend the "Drown, Stir and Feel" method:
Drown - Drown the fire with water.
Stir - Stir around the fire area with your shovel to wet any remaining embers and ash. Be sure to turn wood and coals over and wet all sides. Move some dirt onto the fire site and mix thoroughly to fully smother it.
Feel - Feel the area with the back of your hand to ensure nothing is still smoldering.
Buy It Where You Burn It
If you plan to build a campfire, please 'Buy It Where You Burn It!' Firewood from outside the area can harbor insects and diseases that are non-native to our National Forest. Bringing invasive species into new locations can kill large numbers of trees and shrubs. For this reason, it is important that you 'Buy It Where You Burn It!'
The California Firewood Task Force answers Frequently Asked Questions like:
Why is moving firewood such a bad idea?
Which firewood-related pests should I be concerned about in California?
My firewood has no visible signs of insect or disease infestation. Is it OK to transport it?
Collectively, we can keep the San Bernardino National Forest (and all forests) safe from accidental fires and damage from invasive species! Be an ally with us and know before you go, happy camping!