Pre-Modern History
1772 - The first white men to see the San Bernardino mountain range were deserting Spanish soldiers from the San Diego Mission. They were pursued by Captain Pedro Fages and his troops. Some of the defectors escaped but others were captured.
1776 - The first white man to cross these mountains was Father Francisco Garces. Coming from the desert side, he followed the ridge west of Devil's Canyon and into the Big Bear Valley.
1810 - Padre Dumetz established a supply point and an alter on May 20 in an area he named San Bernardino because it was the feast day of St. Bernard of Sienna.
1812 - The entire area was rocked with repeated earthquakes resulting in a bloody Indian uprising because they thought the Great Spirit was angry with the Padres.

(sourced from BigBearHistorySite.com)
Quite a "Rich" History
Big Bear Lake was also a mecca for gold mining before it was a popular four season resort. History records show that in 1860, a bear hunter named William Holcomb discovered gold in the backcountry of Big Bear (what is now Holcomb Valley) after tracking a bear's blood trail to a creek he found gleaming with flakes of gold. Try as he might to keep it a secret, word spread and Southern California's largest gold rush began! From 1860 to about 1875 the area was heavily populated with prospectors and their families.
All that remains now of the gold rush days are some relics and weathered structures from days of yore. The Big Bear Discovery Center offers tours and self guide brochures for visitors looking to rediscover Big Bear's 'wild west' days. Venture out and you will find actual remnants of the gold mining days and learn about certain points of interest such as Metzger Mine, Lucky Baldwin Mine, Two Gun Bill's Saloon, Hangman's Tree, and Wilbur's Grave.
How Big Bear got its name…
A little Big Bear History factoid: If someone told you they had just spent a fun-filled weekend at a popular Southern California resort called 'Yuhaviat', you probably wouldn't know what they were talking about. Yuhaviat is the Serrano Native American word meaning "Pine Place," and was the name of our little valley for more than a thousand years.

Modern Big Bear history begins roughly around 1845 when Benjamin Davis Wilson rode into the Yuhaviat Valley with a posse of 20 men. They were searching for outlaws who had been raiding their ranches in Riverside. As they entered the valley, they found it crawling with grizzly bears. Nope, not a misprint, they were indeed grizzly bears!

It was with this discovery that Big Bear Lake got its' modern name!

It should be noted however that this name originally referred to what is now Baldwin Lake, as today's Big Bear Lake did not exist until the early 1900s.
Notable Landmarks in Big Bear Lake
Big Bear Historical Society
The Big Bear Valley Historical Society is an organization of people dedicated to preserving the rich history of the area and promoting an appreciation of its colorful and diverse heritage. In addition to hosting historical tours and featured speakers, the Society operates a Historical Museum with an extensive collection of artifacts, featuring exhibits from the indigenous Serrano Indians, the gold mining era, cowboys and cattle ranching, logging, fox farming and early winter sports.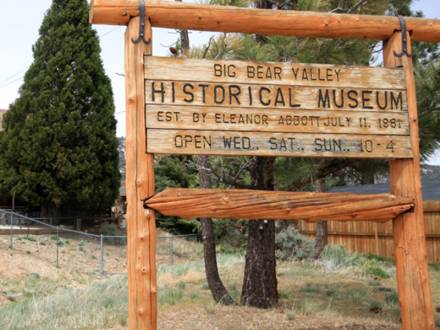 Museums