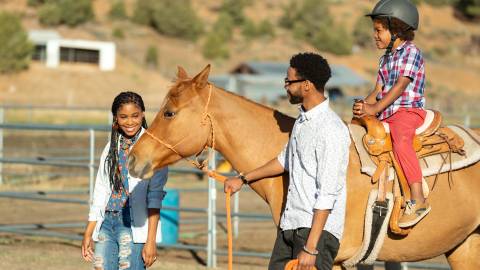 A Getaway Just for Dad This Fathers' Day
Posted: 06/15/21
Father's Day is coming up and we've got a few ready made itineraries for Dad to enjoy on a Big Bear Lake getaway! Is your Old Man an adventure seeker? A dedicated fisherman? A foodie? Big Bear has got something for everyone, start planning the perfect Father's Day today.
For the Fisherman
When a fishing weekend is just the ticket, you'll need...
Book A Charter - Big Bear Lake is home to several professional fishing charter services that can teach the basics of trout and bass fishing. If you're already a seasoned angler, charters can offer insider tips to help you up your game during a season or for a certain species.
Rent A Boat - While shore fishing has proven fruitful time and time again, getting on the water definitely opens up numerous other fishing spots to drop a line in. Whether you're after a basic 14' or 16' fishing boat or a comfier pontoon, Big Bear Lake marinas have you covered for your fishing excursion.
Load Up on Tackle - Of course you'll need all the best tackle equipment to start reeling in fishes. Big Bear Sporting Goods not only offers top tier rods & reels, bait, lures, and other fishing basics, but they also have a highly knowledgeable staff who are passionate fishermen themselves. Be sure to ask for some expert advice!
Get a License - Per California Fish & Wildlife rules, you must carry a valid fishing license. Fishing licenses an be purchased online before you arrive or at marina locations.
Après Fish - Once you've reached your bag limit, head into town to celebrate with some local Big Bear grub and drinks. See below for some inspiration!
For the Off-Road Adventurer
There are so many ways to explore the San Bernardino National Forest in Big Bear Lake...
For The Foodie
Big Bear Lake is proud to host an array of pubs, pizza parlors, steakhouses, and international delights.
All-American - Dig in to American classics at Wyatt's Saloon and Grill. Here midweek? Join in the line dancing Wednesdays and country music on Fridays. Country Kitchen on the west side of the Valley is serving up the best of country feel good food for breakfast, lunch, and dinner. Or grab a Rockin' Burrito at The Cave in The Village, this venue is serving up live tunes and scrumptious burritos.
What's On Tap? - Order the best pub food in town with ice cold beer and spirits. Head over to Big Bear Bar & Grill, The Bone Yard, the Pines Tavern of the Lake, Old Country Inn, or Big Bear Lake Brewing Co. for a laid back dining experience for the whole family.
International Flavors - Take your taste buds on an adventure at Dynasty serving authentic Manderin and Szechwan style Chinese cuisine. You can expect these entrees to have a 'kick' that is true to the Szechwan style. Or enjoy a meal inspired by Indian and Nepalese recipes at Himalayan Restaurant. The Royal Thai Café is cooking up only the best in curry, noodles, barbequed meats, stir-fry, and more. Hacienda Bar & Grill brings you traditional Mexican recipes that are family favorites of the owners! Can't decide? Head to Santana & Maverick's for a menu that spans the globe where everyone is sure to find something they love!
Steakhouses and Seafood - No foodie getaway is complete without a dining experience at one of Big Bear Lake's seafood and steakhouses. Take a seat at The Captain's Anchorage, The Pines Lakefront or Stillwell's at The Lodge in The Village.
Not To Miss - Take a bite while you watch the airplanes fly at The Barnstorm Restaurant, or kick back with a specialty sandwich and a signature smoothie at Amangela's. Sister My Sister Bake Shop is ready to top of your foodie adventure with the best cupcakes, pastries, and goodies in town!