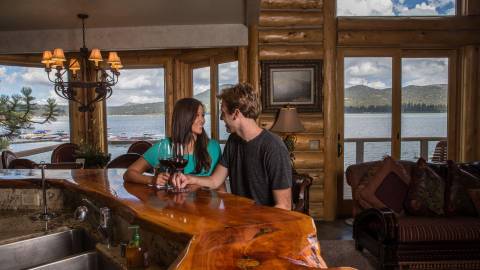 Restaurants with a Lake View
Posted: 02/16/20
You can't beat the ambience of taking in the view while sipping on your favorite drink or nibbling on some mouthwatering appetizers. Your top restaurants with a lake view are:
The Pines & The Pines Tavern
If dining Lakefront is your goal, there is currently only one lakefront experience on our list to pick from when you dine out in Big Bear Lake: The Pines. They offer an expansive and unique menu, and a wonderful fine dining experience. They offer a wine and dessert list to finish off your meal, as well as lunch options including sandwiches and chili specials. The Pines also has boat docks available to park your boat at no charge for their dining guests. Just paddle or motor up to one of their five slips and cast anchor! At The Pines, you can be seated inside or outside for the best view in town. Don't forget to grab a drink at their bar!
New to the area is also The Pines sister restaurant, The Pines Tavern. With live music almost every day and perhaps the best view of the lake, the Pines Tavern is a great place to enjoy a cocktail and see the sunset.
Santana & Mavericks
Santana and Mavericks is right on Big Bear Boulevard. The restaurant lies on top of a small hill and the outdoor patio offers a great vista overlooking the lake. Sample many different styles of cuisines at the restaurant, including Mexican, Chinese and French!

Lakeside Picnics
While not a restaurant, one of the best ways to see Big Bear Lake is to picnic – lakeside! Grab some food from local restaurants and head to Meadow Park or Veteran's Park for one of the best views you can find. Bring a blanket and enjoy! While you aren't being served, you are still being entertained with Big Bear's gorgeous views.