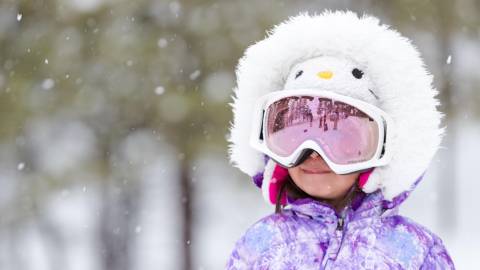 It's Wintertime! How to Have Fun in Big Bear
Posted: 11/30/22
Few places in Southern California offer opportunities for a snowy winter, and even fewer places do winter as well as Big Bear Lake, California! As Southern California's best winter destination, be prepared to have fun with these tips on enjoying the snow and staying safe during your visit.
Warm clothes are a must!
Warm clothes are a must in colder mountain temperatures. Especially for little ones who will want to tumble, slide and run through the snow. Layer up with thermals and sweaters or hoodies. A warm, waterproof jacket and snow pants are also best for snow play or sports. Snow boots and thick socks are great if you plan on snowshoeing or tubing. Also, be sure to protect your hands and ears with gloves and hats. Bring extras of everything so you can shed any wet clothes and slip into something dry when you've had your fill of snow play.
Be Safe - Bring Chains!
Tire chains, cables, and other traction devices help your vehicle manage snowy and icy roads. The law requires you to carry chains or other DOT (Department of Transportation) approved traction in your vehicle from November 1 through April 1. Check your vehicle owner's manual for tire sizes and any special instructions, then buy a pair of chains or cables at your local auto supply store before traveling. If you need to stop to put chains on while driving, pull over to the side of the road so other cars can pass you.
Tip: Practice putting chains on in your driveway before traveling. Study the three ways to drive to and from Big Bear.
Bring Your Imagination!
Snow has a way of stirring our imaginations and sense of playfulness. Building snowmen, making snow angels and snowball fights are all fun activities in Big Bear's winter wonderland. Need some inspiration? Stop by the Big Bear Visitors Center for maps, area suggestions and a $5 Daily Adventure Pass, if needed.
Look For Unique Activities
Skiing and sledding are obvious winter activities everyone can enjoy, but while you're in town, seek out some of our more 'uniquely Big Bear' experiences like:
Snow Tubing In Big Bear
The Alpine Slide and Big Bear Snow Play offer a safe and fun snow tubing experience. And you can forget about trudging up steep hillsides or rocky terrain – both of these snow play areas offer a "magic carpet" ride to the top. Both locations offer an indoor area where you can warm up with hot cocoa, snacks, and an arcade. When the sun goes down on Friday and Saturday nights, the neon lights come on and glow tubing begins!
Southern California's Best Ski Resorts
Big Bear Mountain Resorts features two ski resorts, Snow Summit and Bear Mountain. Both locations offer skiing and snowboarding for all ages and abilities and are full-service ski resorts with lifts, lessons, equipment rentals, restaurants, and sport shops with a wide array of clothing and accessories.

Snow Summit is also home to Grizzly Ridge Tubing Park as well as summer sports Spring through Fall.
Call the Big Bear Visitors Center at 800-424-4232 to get referrals on for Big Bear lodging, dining, activities and special events. We can help make your winter getaway a memorable one!