4th of July in Big Bear Lake
Imagine it - an evening on Big Bear Lake, floating on the water and watching spectacular fireworks explode overhead. Or, maybe you're seeing it from a beautiful vantage point you hiked to on the trails. Wherever you are, the 4th of July Fireworks Spectacular is truly a sight to behold!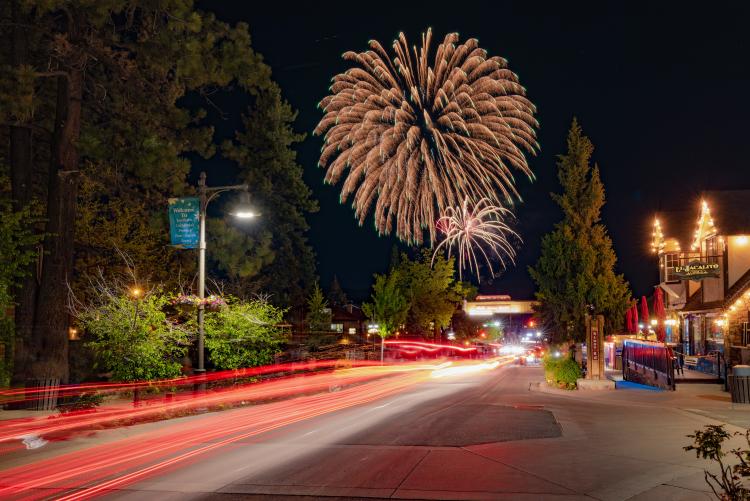 Independence Day Events
4th of July Fireworks Spectacular

Thursday, July 4, 2024. Visible from the water, shoreline and some trail vantage points. Starts between 8:45-9:15 PM, runs approximately 30-40 mins
The Fireworks Spectacular explodes over Big Bear Lake every July 4th and is FREE to spectators. Local radio station KBHR airs a musical accompaniment to the show on 93.3 FM and 102.5 FM.

Above The Boom
Thursday, July 4, 2024. Snow Summit, 880 Summit Blvd. 7 - 10 PM
Take your 4th of July to new heights at the Above the Boom fireworks viewing party featuring a Scenic Sky Chair ride, live DJ music, and panoramic views of Southern California's largest 4th of July fireworks show.
Traffic Plan for the City of Big Bear Lake
Please be advised that the City of Big Bear Lake implements a strict traffic plan at the conclusion of the fireworks show. The plan helps mitigate heavy traffic that is typical after the show and designed to keep you moving safely from your watch spot to your house.

From the Dam to Division Rd, only right-hand turns will be permitted onto Big Bear Blvd.

Thank you for your patience and understanding. We hope everyone has a safe and happy 4th of July!
PERSONAL FIREWORKS ILLEGAL IN BIG BEAR VALLEY

From Big Bear Lake Fire Department:
Personal fireworks are illegal throughout Big Bear Valley, including "safe and sane" fireworks. In addition, all fireworks that explode, shoot into the air or move along the ground are termed dangerous and are illegal anywhere in California. If someone is seen using personal fireworks, call (909) 866-7566 or text (909) 731-4887 immediately. Report illegal fireworks.
From San Bernardino County Fire Protection District:
Possession of any type of fireworks, including "safe and sane" fireworks, is against the law in any unincorporated area of San Bernardino County. In the event a fire occurs due to the unsafe use of fireworks, the responsible persons are likely to face criminal charges and be held liable for damages.

CAMPFIRES PROHIBITED OUTSIDE DESIGNATED AREAS
San Bernardino National Forest prohibits campfires outside of agency-provided fire rings at designated sites. Remember that regulations governing campfires are specific to each National Forest. Campfires may only be started within:
Developed Campgrounds (i.e. Serrano, Holcomb Valley, etc.)
Yellow Post Sites with a provided fire ring
It is illegal to build a fire while camping remotely or outside of the above mentioned areas. Additional restrictions will be implemented as fire danger increases, always check with the local Ranger Station before heading out to your site. A citation for violating fire restrictions prompts a mandatory court appearance. It is a federal offense punishable as a Class B misdemeanor, by a fine of not more than $5,000 for an individual or $10,000 for an organization, or imprisonment for not more than six (6) months or both.