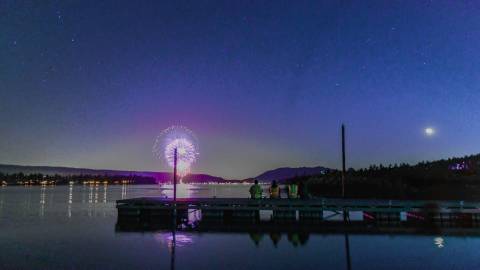 Best Places to View Fireworks
Posted: 06/27/23
Big Bear Lake's Memorial Day, 4th of July, and Labor Day fireworks can be viewed from around the valley, but just where are the best spots? Keep reading for our picks on fireworks viewing spots.
Lakeside
Stanfield Cutoff - the land bridge connecting the north and south shores offering incredible viewing, but find your spot early.
North Shore - Most of the land along the north shore is open to the public and offering great viewing.
Alpine Pedal Path - This paved trail along the north shore is set back from the shoreline but is a prime viewing spot if you've got strollers in tow or if members of your party need level walking ground.
On the south shore, Rotary Park, Veteran's Park, and Ski Beach offer lake views for watching fireworks.
From the Trails
While viewpoints from along the trails can be great, hiking trails at night present hazards. If you choose to hike after dark, be sure you're using safety measures like bright flashlights and dress for warmth.
Cougar Crest - This north shore trail offers excellent lake views.
Towne Trail X 2N08 - This intersection offers lake views above The Village.
On The Water
The #1 spot for fireworks viewing is on the lake. If you're reserving a boat, it is likely you'll need a reservation for this special event. Each marina will have different procedures so be sure to reach out to them directly.