Cycling & Mountain Biking
Big Bear Lake is Southern California's mecca of cycling and mountain biking. With downhill trails and single-tracks ranging from easy to challenging, you're sure to find the perfect ride every time! Snow Summit Bike Park's chairlift takes you and your bike to the top of the mountain to access bike trails both on and off the property. If you don't have your own bike, pick up a rental at one of the local shops.
Mountain Biking

Summit Bike Park
Big Bear was put on the map in the 1990s as the ultimate downhill mountain biking destination when it hosted national races including the National Off-Road Bicycle Association (NORBA) National Championship Series. Big Bear's downhill terrain has been ridden by both professional riders and recreational weekend warriors who both agree it equals the best in the world!
Big Bear firmly reestablished itself as an iconic mountain bike venue upon reinstatement of the Summit Bike Park in 2012, after a 7-year hiatus. Accessible from the Scenic Sky Chair, the bike park is the only lift-served, gravity fed park in Southern California, featuring some of the most exciting and challenging runs in the country. With a variety of set ups, banked turns, bridges, and two new trails, there's something for riders of all ability levels. Summit Bike Park was the host of the 2019 US Mountain Biking Open for its first appearance on the West Coast. Visit BigBearMountainResort.com for Summit Bike Park info.
Class 1 pedal-assist e-bikes are now permitted at Snow Summit Bike Park. These bikes are great for beginners and riders with physical limitations. Learn more here.

Cross Country & Single-Track Riding
Big Bear also sets itself apart with over 100 miles of cross-country, single-track trails and Forest Service roads to satisfy riders of all ages and skill levels. Ride them for fun or register for one of Big Bear's cross-country races like the Gran Fondo and Grizzly 100 hosted by Bear Valley Bikes.
One of Big Bear's more popular biking trails is Skyline Ridge (2N10), which passes through Snow Summit and offers the most scenic views in the valley with Mount San Gorgonio to the south and Big Bear Lake to the north. Other favorites, accessible from the Scenic Sky Chair are Grand View Loop and Plantation Trail, both rated intermediate. Be sure to also catch Pine Knot Trail (1E01) and Grout Bay Trail for single-track thrill rides with excellent terrain and a perfect amount of twists and turns. Beginner riders will get a perfect intro to Big Bear biking on Woodland Interpretive Trail and Bristlecone Trail.

Pick up a hiking/biking trail map from the Big Bear Visitor Center or Big Bear Discovery Center and start planning your adventure!
Road Cycling
Big Bear is also well known as a road riding capital because of its rigorous climbs and peak to peak rides. Our little town has played host to some major road racing events like the 2010 and 2012 Amgen Tours of California while Big Bear Cycling Association has organized events as the annual Tour de Big Bear, which attracts over a thousand cyclists each year.
Big Bear's cycling-friendly community has two full service bike shops that sell, rent and service bikes. Their staffs include cyclists who can provide valuable information and knowledge of rides in and around Big Bear Lake.
Road Rides For All Levels
Beginner and first-time riders will love the fully paved Alpine Pedal Path that starts at the east end of the lake at Stanfield Cutoff, and rolls along the shoreline for about 3 1/2 miles. This area is a perfect place for a relaxing, lakeside cruise with friends and family, without the hassle of cars!
A top choice for intermediate cyclists is an easy ride around the lake. The 15-20 mile journey takes approximately an hour at a casual pace and offers many opportunities to snap a scenic photo of the Valley.
Add Baldwin Lake into the lake loop for a 40-mile trek that is ideal for cyclists looking for distance without vertical climb. It's best to start either ride on the south shore, and head west toward Big Bear Dam on Hwy.18. Cross the dam, and continue to ride clockwise to Hwy. 38 on the north shore. Turn right at Stanfield Cutoff to return to town or continue on Hwy. 38 and take it to Baldwin Lake. Turn right turn at Baldwin Lake road and follow it to Shay Road and back to Big Bear Blvd (Hwy. 18).
Riders looking for a real challenge will love (love/hate probably) adding in the popular 9-mile ascension to Onyx Summit, the highest altitude roadway in Southern California topping off at 8,443 feet.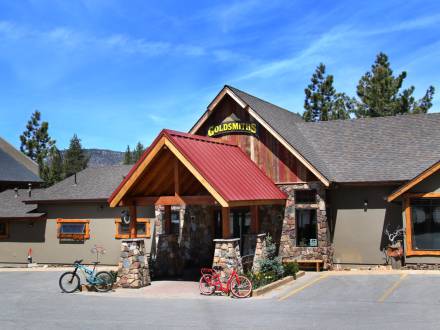 Biking
42071 Big Bear Blvd
Big Bear Lake, California 92315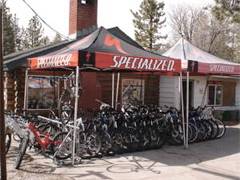 Biking
40298 Big Bear Blvd
Big Bear Lake, California 92315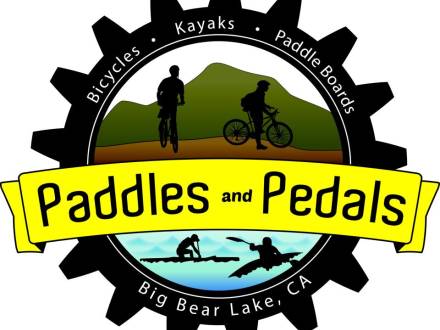 Biking
40545 North Shore Ln
Big Bear Lake, California 92315