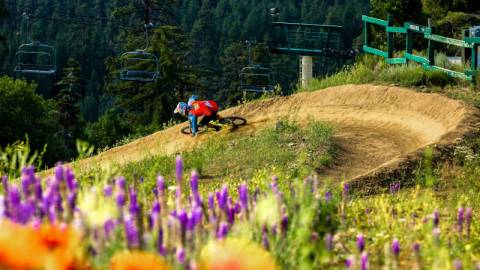 Mountain Bike Haven
Posted: 07/02/19 | By Sara Schacht
As Southern California's premier four-season destination, Big Bear Lake is a haven for cross-country and downhill mountain biking in the summer months.
Big Bear Lake features 100+ miles of singletrack trails and the region's best lift-served, gravity fed bike park.
In the Beginning
Big Bear Lake came to MTB prominence in the 80s and 90s, with Big Bear Mountain Resort's Summit Bike Park serving as the place for pro and amateur riders alike – hosting some of the industry's biggest events like the NORBA Nationals Series and MTB World Cup – while pushing the progression of the sport to new heights.
In the early 2000s the Big Bear Mountain Resort suspended all summer operations, including the Summit Bike Park, before amending its policy and allowing MTB riders to access non-downhill trails in 2004.
All Is Not Lost
In 2014 Mammoth Resorts acquired Big Bear Mountain Resort and the Summit Bike Park was reopened to the delight of downhillers throughout the Southland. Since reopening, the Summit Bike Park has reclaimed its status as one of the sport's leading destinations, featuring new trails, expanded terrain, and training areas for riders to hone their skills. In addition to its downhill and base area options, Summit Bike Park also provides access to 60+ miles of cross-country trails as part of the Big Bear Valley Trails Foundation's Adopt-a-Trail program.
Not Just a Downhill Haven
With over 100 miles of cross-country trails weaving and winding through the National Forest on both the lake, Big Bear has something for riders of all disciplines and abilities. All non-lift accessed trails are free to ride and offer a wide mix of options, from challenging technical terrain to more leisurely treks.
Building a Reputation
As Big Bear Lake continues to become more prominent in the mountain bike industry it continues to host more prominent competitions, like the AMGEN Tour of California, as well as grassroots events like the Summit Series, Crafts N Cranks Bike & Brew Festival, and Big Bear Gran Fondo & Grizzly 100/75.
In Spring 2019, Big Bear Mountain Resort announced a three-year agreement to host the FOX US Open of Mountain Biking at Summit Bike Park, marking the first time in the event's 16-year history that it will be held on the West Coast. In preparation for the event, Summit Bike Park is building a new expert/pro downhill trail that will be open to the public before and after racing, further cementing Big Bear's status as the MTB mecca of Southern California.
Featured Events:
Crafts N Cranks
Part bike competition, part craft beer festival, featuring two days of on-hill racing, 40+ craft beers available for sampling, live music, and plenty of family-friendly activities. Base area admission is free (all ages), with riders competing for over $40,000 in prize money. Website: CraftsNCranks.com
Tour de Big Bear
One of SoCal's most popular road races, 2019 marks the Tour de Big Bear's 10th anniversary, featuring serene scenery, themed rides, a cycling expo, and 10K, 25-, 50-, 70-, 106- and 109-mile courses designed for riders of all ages and abilities.
FOX US Open of Mountain Biking
For the first time in its 16-year history, one of the most renowned events in mountain biking will take place on the West Coast at Big Bear Mountain Resort's Summit Bike Park. The four-day event features a unique Pro/AM format with some of the most challenging and competitive racing in the industry, plus a full schedule of live music and vendor activations.
Gran Fondo & Grizzly 100/75
The Gran Fondo & Grizzly 100/75 features some of the best riding in Big Bear, with five different routes to fit all levels of riders, ranging from the 20K Skyview to the Grizzly 100/75 National Ultra Endurance races.
Sara Schacht is the Social Media & Website Content Coordinator for Visit Big Bear. Enjoying the great outdoors in Big Bear is a top priority for her in every season!