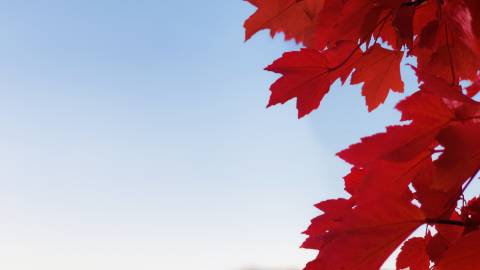 Unique Ways to View Colors!
Posted: 09/28/23
Not to brag, but Big Bear Lake boasts some pretty spectacular colors in the fall season! Something we like to call the Falltacular season!
Aspens, maples, oaks, and more show off their bright reds, yellows, and oranges in the autumn months - about mid to late September through late October - and viewing them is as easy as taking a stroll through the neighborhood, or as exciting as soaring through the air on a scenic helicopter tour!
Take A Walk!
Big Bear's forested neighborhoods offer a real treat for autumn color seekers. From your lodge or vacation rental, head out the front door and take an easy stroll around the block. Deciduous trees can be found growing throughout Big Bear, so fall foliage will be brightening every area in the Valley this season!

Hop On A Bike!
If you're more of a two-wheel type of adventurer, grab your bike - or rent from one of our top bike shops (see bottom) - and explore the town, don't forget your camera!

Scenic Segway Tours!
Action Tours California hosts their Scenic Fall Color Tours each year, offering tourists a fun and unique way of exploring the town. You'll be lead through the vibrant and colorful Village area as well as surrounding neighborhoods on your very own Segway machine.
Get Above It All!
Take flight and see the Valley's crimson and yellow hues from the skies with Helicopter Big Bear! You'll get bird's eye views of Big Bear Valley, the Mohave Desert, San Gorgonio, the Santa Ana Canyon, and much much more! All tours leave from Big Bear City Airport.

Set Sail!

Take in Big Bear's colorful changing leaves this fall right from the water aboard one of three lake tour experiences. Tours are lead by certified captains who will share the Valley's history and interesting facts while exploring beautiful coves and shorelines, some only visible from on the water.
Share your fall color experience with us on social media! Tag @visitbigbear to share or #yesbigbear to be reposted.