Best Fall Color Hikes
Posted: 08/19/22
Southern California boasts few places to truly experience a real autumn season. From mid October to early November, Mother Nature transforms Big Bear Lake into a sea of gold, crimson, amber and yellow. Big Bear's fall season is ideal for those who want to escape for a day or take a mini-vacation to experience the splendor of Big Bear's autumn hues. A hike in the woods in October and November is magical in a sense. The fall colors in Southern California combined with the crisp air bring out something special in everyone.
Thousands of evergreen trees help bring out the brilliance of fall colors of other trees like aspens, cottonwoods, and oaks. The ground is covered with rust-colored ferns, and Big Bear Village is brilliant with vibrant red maples. Some of the best spots include, Mill Creek Road, The Pine Knot Trail and Castle Rock Trail. Amateur and professional photographers alike visit Big Bear Lake to capture these spectacular autumn hues. These remarkable fall colors appear only once a year and expected to peak the second week of October.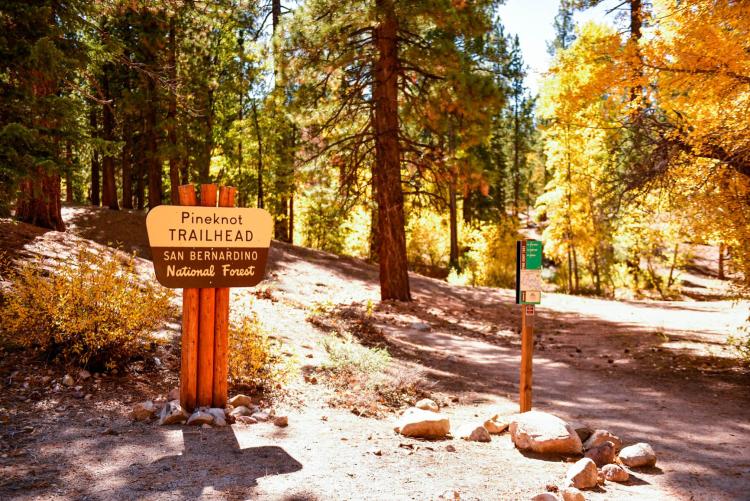 Best Fall Color Hikes and Bike Rides in Big Bear
Fall is in the air in Big Bear Lake! The nights are getting cooler and the colors in the forest are beginning to change. Big Bear is the absolute best place to go in SoCal for a hike or bike ride to experience the changing season as it comes alive with fall color. Here's a list of our 4 faves.
1. Town Trail
For an easygoing fall hike check out Town Trail. Ideal for leisurely strolls, dog walking and/or mountain biking, Town Trail is tucked neatly between The Village and Snow Summit off the 2N08 at Knickerbocker Road. During autumn months, dotted among the evergreens that shade the trail, you'll see the subtle changes of dogwood and oak trees with shades of gold, amber and orange. Try an early morning hike in the crisp mountain air or a late afternoon hike with the last rays of sunlight streaming through the trees.
Easy | 3-mile hike or ride | Round trip.
2. Castle Rock Trail
On Castle Rock Trail you'll wind your way through a dense forest trail of pine and oak trees. Scramble up impressive boulder outcroppings for panoramic views of Big Bear Lake. The autumn leaves make Castle Rock Trail a favorite fall hike for locals and visitors. This trail has a steep climb that will get your heart pumping for the first half-mile and then levels out as you make your way towards Castle Rock.
Intermediate | 2-mile hike | Round trip
3. Pineknot Trail
Pineknot Trail begins at the Aspen Glen Picnic area. In the fall, you'll get an eyeful of brilliant yellow at the trailhead with the more subtle autumn colors of the oaks as you get further up the trail. The red-barked manzanita is covered in berries that attract local deer early in the morning and at sundown. Plenty of photo ops. The trail crosses the road at the 2N08, skirts alongside Deer Group Camp and you wind up at the 2N10 where another sign will direct you to Grandview Point. Follow this trail for another quarter mile and you will top out at 7,784' with spectacular views of Mt. San Gorgonio. There are a lot of elevation changes on this trail, with beautiful forest views.
*Note: This trailhead parking lot requires an Adventure Pass or an America the Beautiful Pass.
Intermediate/Difficult | 6-mile hike or ride | Round trip

4. Bluff Lake Reserve
Take Millcreek Rd./2N10 for a stunning scenic fall drive or MTB ride. About 4 miles up is Bluff Lake Reserve, a pristine 80-acre preserve owned and managed by The Wildlands Conservancy. Recently designated as part of the national Old Growth Forest Network, this protected 20-acre alpine lake and meadow is surrounded by a towering forest of Lodgepole Pines, Jeffrey Pines and White Fir. Most of the autumn color at Bluff Lake will be found in the grasses, ferns and other ground-cover along this .08 mile path that circles the lake. Don't miss the remains of the original settlers cabin and still-standing log cabin built for their minister.
Easy | .08 mile hike | Loop trail (No bikes allowed on Bluff Lake Loop Trail)

Fall is Within Reach
Big Bear is only a two hour drive from most Southland communities and three hours from Las Vegas, making it easy access to see the mountain resort's autumn spectacle. The refreshing, clean air adds true pleasure to brisk walks along the lake. Mountain breezes help the oak trees shed their red and golden leaves. For romantics, it is a great time to snuggle up with a warm blanket next to a fireplace, and wake the next morning to a fresh alpine landscape. For the more adventurous-at-heart, autumn is ideal for hiking and mountain biking on the alpine trails.