Best Fall Color Hikes
Posted: 08/16/23
Southern California boasts few places to truly experience a real autumn season. But in Big Bear Lake, Mother Nature transforms our valley into a sea of gold, crimson, amber and yellow from mid October to early November.
Hiking trails take on a magical feel with their changing aspens, maples, and oaks. The Village is a postcard come to life with fall foliage, wooden animal carvings, and twinkling lights in the evening. Touring businesses even offer special viewing excursions during this unique season. See some of the best ways to View Fall Colors these fall season in Big Bear Lake.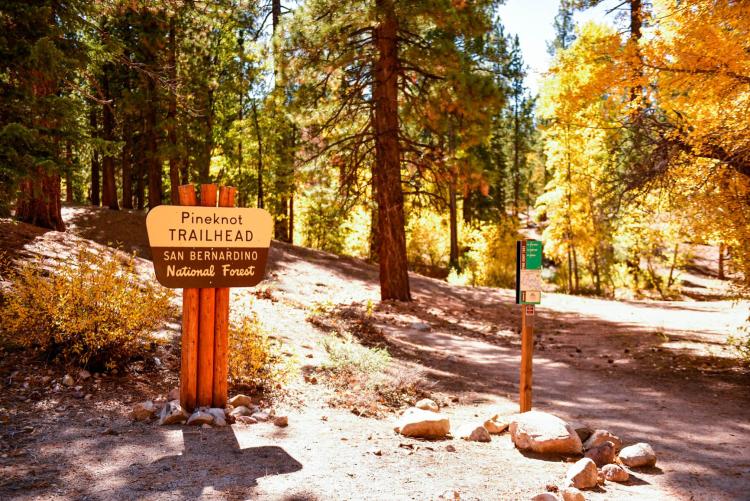 Best Fall Color Hikes and Bike Rides in Big Bear
1. Towne Trail
For an easygoing hike, check out Towne Trail. Ideal for leisurely strolls, dog walks and mountain biking, Town Trail is tucked between The Village and Snow Summit off of 2N08 at Knickerbocker Road. During autumn months, you'll see shades of gold, amber and orange among the richly colored evergreens.
Easy | 3-mile Round trip.
2. Castle Rock Trail
The autumn leaves make Castle Rock Trail a favorite fall hike for locals and visitors. You'll wind your way through dense forests of pine and oak, and scramble up boulder outcroppings for panoramic views of Big Bear Lake.
Intermediate | 2-mile Round trip
3. Pineknot Trail
Beginning at Aspen Glen Picnic Area, Pineknot Trail invites you in with more subtle autumn colors of the oak trees. Red-barked manzanita is covered in berries that attract local deer early in the morning and at sundown. There are a lot of elevation changes on this trail, with beautiful forest views.
*Note: This trailhead parking lot requires an Adventure Pass
Intermediate/Difficult | 6-mile Round trip

4. Bluff Lake Reserve
Take Millcreek Rd./2N10 for a stunning scenic fall drive or MTB ride. About 4 miles up is Bluff Lake Reserve, a pristine 80-acre preserve owned and managed by The Wildlands Conservancy. This protected alpine lake is surrounded by wet meadow and a towering forest of Lodgepole Pines, Jeffrey Pines and White Fir. Don't miss the remains of the original settlers' cabins near the entrance.
Easy | .08 mile hike (No bikes allowed on Bluff Lake Loop Trail)

Fall is Within Reach
Big Bear is a two hour drive from most Southland communities and three hours from Las Vegas, making it easy to access the mountain's autumn beauty. For those looking to escape the big city, refreshing, clean air and a mountain breeze make the experience all the more inviting. For romantics, fall in Big Bear is a great time to snuggle up with a warm blanket next to a fireplace. For the more adventurous-at-heart, autumn is ideal for hiking and mountain biking on the alpine trails.