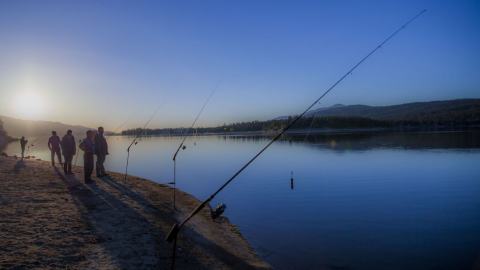 Fall Season Fishing
Posted: 05/01/23
Casting into Autumn: Exciting Fall Fishing in Big Bear Lake
Spring is usually touted as 'The' fishing season here in Big Bear Lake. What you may not know is that the fall season is just as good - and maybe even better - for rainbow trout fishing.
Chris Powell of Big Bear Sporting Goods explains that trout are a cold water fish. They thrive in alpine lake and river environments and are, therefore, most active in the colder months.
Powell explained that in the spring, trout feed heavily on insects and other bugs near the water. Such a feast isn't available in the fall months, leaving the trout hungry for something to munch on - so ready those lures!
Whether you're a seasoned angler or new to the game, we've got some tips you may want to consider when preparing for your autumn fishing adventure.
Gear Up!
Fishing reels and roads, bait, lures, and fishing line are available at numerous location throughout the Valley. Get all the equipment you'll need plus some helpful expert guidance from Big Bear Sporting Goods and even from our local marina tackle shops.
Head to the Marina!
Boat rentals are available through the fall season in Big Bear Lake. Fishing boats offer a basic aluminum frame with bench seating and a till - these typically are the cheapest rentals you'll find. Pontoon boats offer a little extra comfort with upholstered seating and a full steering and throttle console plus a captain's seat.
Fishing from a kayak or canoe is also popular, we'll leave the final decision up to you.

Book A Charter!
Beginning and experienced anglers alike can learn valuable insider tips and refine their fishing skills with qualified experts aboard a private fishing charter. Your guide can help you make decisions on what baits and lures to use and what areas of the lake may be more fruitful in the autumn trout fishing season.
Bring Layers & Snacks!
The fall months on Big Bear Lake can see some lower temps and pretty chilly winds, so don't forget to layer up or bring additional jackets while on the water. Our altitude also has a way of sapping extra energy, so pack some healthy snacks and plenty of water to avoid dehydration. Just make sure those food wrappers and drink containers find their way to the garbage can at the end of your trip.
Abide By The Rules!
A California Fishing License is required for anyone 15 years or older fishing from a boat, dock, or shoreline. Bagging limits are in place at Big Bear Lake so be sure you're following the limits for the species you're fishing for.