25 Things To Do In Big Bear Lake With Kids In The Summer
Posted: 06/01/18 | By Jayme Kennedy
Big Bear Lake in California offers fun for the whole family, especially for kids! Think water slides, ziplining and pirate ship tours, and much more.
If you're anything like me, you typically think of winter when it comes to Big Bear Lake—skiing at Snow Summit, snowboarding at Bear Mountain and drinking hot chocolate. But, guess what: Big Bear and Big Bear Lake really come to life in the spring and summer. My family and I had the chance to visit the area recently and we were blown away by the bustling mountain town and all it has to offer—think water slides, ziplining and pirate ship tours. Plus, the weather was perfect, the people were lovely and the kids slept soundly every night after days packed full of adventure. If you're looking for a quick weekend getaway (or even a day trip!), look no further than Big Bear Lake in California—it's only two hours from Los Angeles. Here are 25 things to do on your family's trip.
---
1. While at Alpine Slide at Magic Mountain, make time for go-karts and mini-golf. The go-kart track is small, but you get plenty of spins around the asphalt. And the mini-golf course is surprisingly difficult!
2. It was in the mid- to high-80s when we were in Big Bear Lake (those summer temps are perfect for outdoor activities!), so obviously we had to take a few turns down the water slide. Located at Magic Mountain, the Alpine water slide is the perfect way to cool down on a hot day. Two twisty slides take riders through turns and dips, before they splash into a heated pool at the bottom.
3. Try the Alpine Slide at Magic Mountain! Ride a mini sky chair up to the top of the hill, then settle yourself into a bobsled and careen down the cement track as it winds its way down to the bottom. You control the speed of your own sled with the control handle. The sleds can fit two people, so they're perfect for parents to ride with their little ones.
---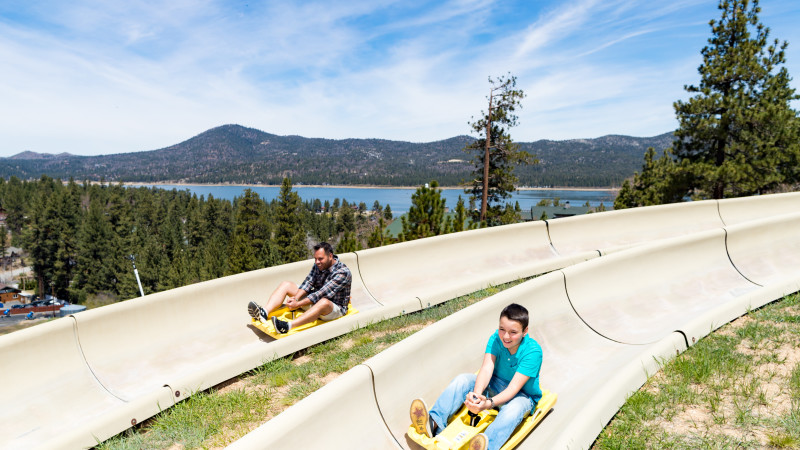 ---
4. Fly through the trees on a zipline with Action Tours! The three-hour zipline tour starts with an off-road safari Jeep ride and includes nine different high-speed ziplines.
5. Fill up those hungry bellies with a in The Village. They have delicious hand-tossed pizza for the kiddos and ice-cold beer on tap for the parents.
6. Rent a kayak or canoe and paddle out to see Boulder Bay. The park has bathrooms, picnic tables, and a fishing dock.
7. If it's thrills you seek, head to Snow Summit and take a mountain bike down one of their downhill bike trails. Bikes are available for rent if you didn't bring your own. And there are beginner trails for youngsters, too.
8. Get up close and personal with mountain wildlife at the Big Bear Alpine Zoo. You'll see everything from arctic foxes to black bears, and they even have a reptile house!
---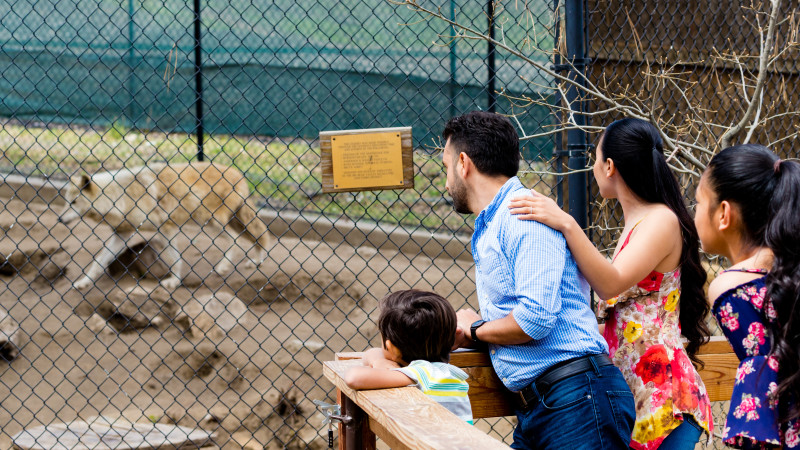 ---
9. Head over to Paddles and Pedals and rent some bikes for a nice family ride along the conveniently located pedal paths. They even have kids' tow trailers for small children who can't ride on their own.
10. Or rent a stand-up paddle board and float around Big Bear Lake! The shop is located right by the shore, providing easy access to serene lake floating.
11. Stop in at Ben and Jerry's in the Village for an ice-cold treat after a day outdoors! Ben and Jerry's stores are the only shops that test each batch of their delicious ice cream for pesticides and chemicals, so you know that every bite and lick is pure and natural.
12. Looking for some fun on the farm? Look no further than Bear Valley Farms, which offers horseback riding, a petting zoo and tractor-pulled hay rides.
13. For an authentic souvenir to take home, hit up Gold Rush Mining Adventures and make the kiddos work for their treasures! They can strike it rich (in memories) with everything from gold to gems and geodes.
---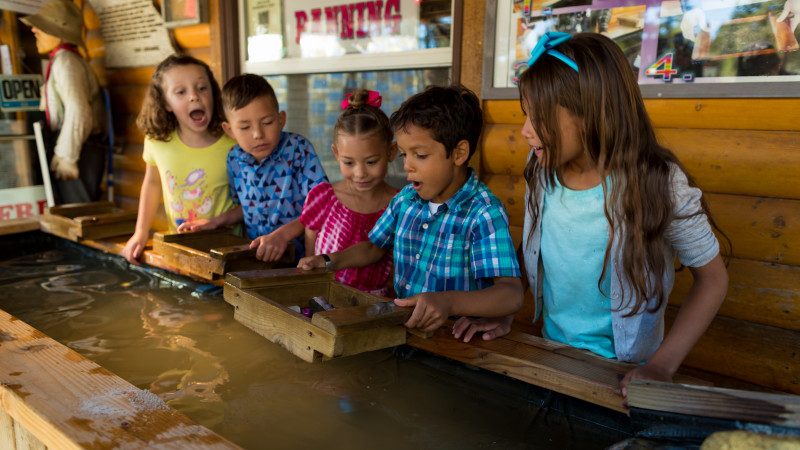 ---
14. Head out onto the water in a pontoon from a marina. These easy-to-drive water boats can seat up to 14 people and lounging on one is a great way to spend an afternoon on Big Bear Lake.
15. If you've got some water sports lovers, consider renting a jet ski or two. They have jet skis and WaveRunners that fit one to three people.
16. Have a beach day in the mountains at any one of the great swimming spots along the shore! We loved wading in the waters around China Island (Garstin Island). Thrill-seekers can climb up the rock formations and jump into the cool waters below.
17. See Big Bear from a bird's eye view on the Sky Chair at Snow Summit. This leisurely ride takes you a mile up to the summit at 8,200-feet elevation and the views will take your breath away. Don't forget to purchase a lunch voucher for a gourmet Mediterranean or BBQ lunch at the top of the mountain.
18. Once you disembark the chair on the summit, head to the right and take the Mountain Loop hiking trail around the top. This easy trail is perfect for beginners and little legs (my eight- and four-year-old hiked it in sneakers!), and the views on the lookouts are worth it.
---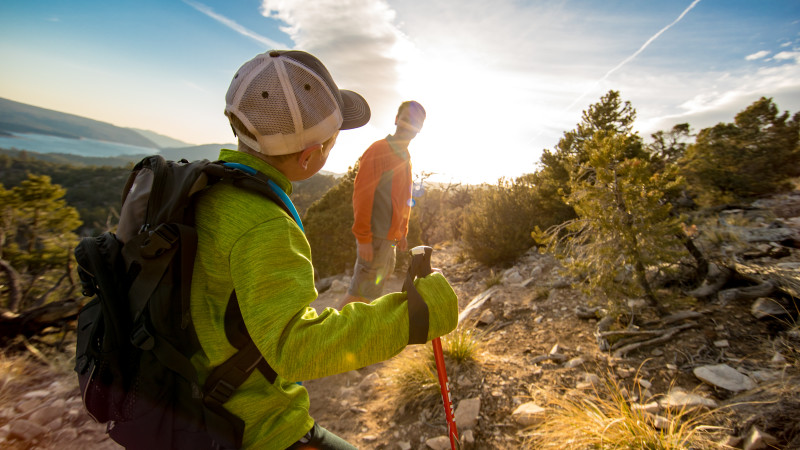 ---
19. For a delicious meal on a cozy patio, hit up Nottingham's Tavern, located next to the Robinhood Resort. Go for the prime rib if you visit on the weekend.
20. Of course, no visit to Big Bear Lake would be complete without a stop for sweets!
21. Speaking of lines, breakfast can get a bit crazy in the Village, and the early birds really do get the worms!
22. Once your kids' bellies are full, let them burn off some energy with rock-wall climbing or bungee-jumping at the basecamp at Snow Summit. Don't worry, the bungee-jumping isn't off a cliff.
23. You must take the littles on a pirate ship tour of Big Bear Lake. The Time Bandit does regular jaunts around the lake, with the Captain telling his passengers all about the rich history of Big Bear. This was my kids' favorite adventure of our weekend!
---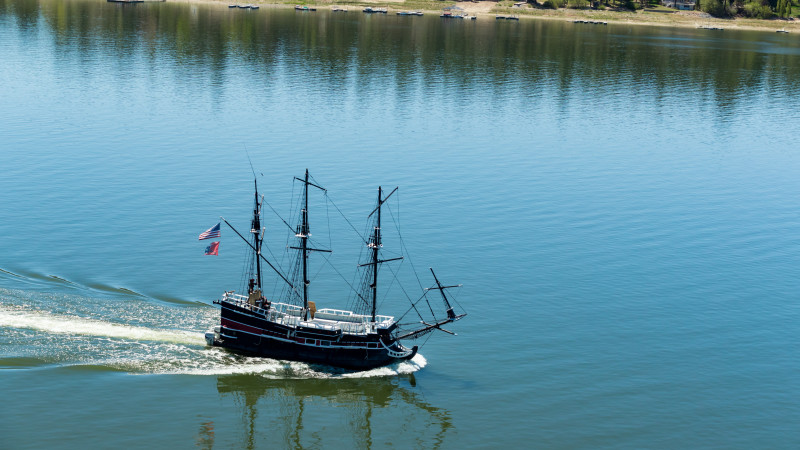 ---
24. Hook a big one on a fishing excursion. The licensed, professional guides will help as much or as little as you need, and all gear is provided.
25. See Big Bear from a different point of view on an off-road excursion with Big Bear Jeep Experience. Guests drive the vehicle and follow the guide along trails and roads and over rocks and crevices! They have trails suitable for beginners that can be completed in about an hour and a half.
Jayme Kennedy is a blogger with MommyNearest.com. She gave up the fast life of the city for the sleepy suburbs of the Inland Empire. She's a mom of two girls, ages 6 and 2, who keep her on her toes!