Fishin' for $50K Trout Tournament
Save the Date! June 8 - 9, 2024
With 5 tagged trout worth $10K each, you could win up to $50K! Plus, an Anniversary Tournament Champion will win $2,500!

Fishin' For $50K is the family event of the season. Bring out the whole crew and enjoy two days on Big Bear Lake fishing for $50K. Five out of 30 tagged trout are Grand Prize Winners worth $10K each. Now that's worth fishing for!
Weight class prizes are given to both adult and child age groups and raffle prizes include adult and child fishing equipment. It's just another reason to invite the whole gang to enjoy this event weekend.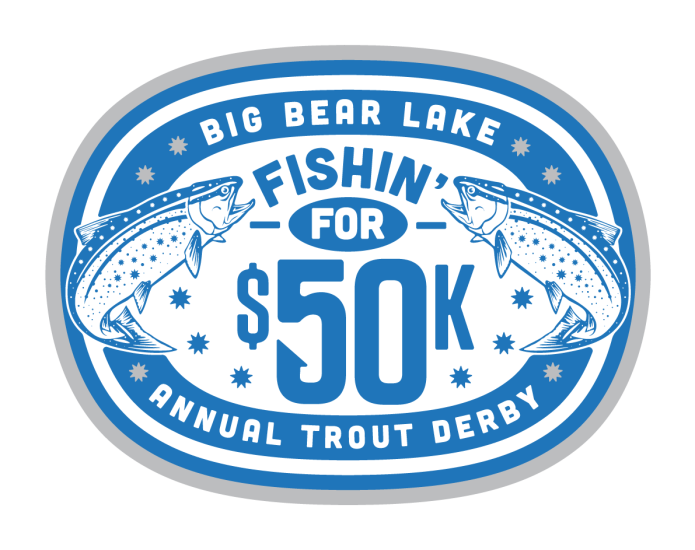 Prizes!
The awards ceremony takes place Sunday, 3 PM at 630 Bartlett Rd in the Big Bear Village. The ceremony includes the general raffle with thousands of dollars worth of fishing gear, bait and tackle, and angling equipment.
Anglers also have a chance to win a brand-new fishing kayak as part of a separate raffle courtesy of Big Bear Sporting Goods.
NEW! Anniversary Tournament Champion
A new Anniversary Tournament Champion will be named based on Largest Fish (by weight) caught regardless of any age category. Bring your A(ngler) game and walk away with $2,500!
Grand Prize Tagged Trout
Cash prizes will be awarded for tagged fish with winning numbers - worth $10K.
Non-Grand Prize Tagged Trout
$500 will be awarded for the first 5 non-grand prize tagged fish brought in.

Weight Class Awards
Weight class awards will be given to Adult Male & Female (16+) categories:
1st Place - $1500
2nd Place - $750
3rd Place - $500

Weight class awards will also be given to Child Male & Female (15 and under) categories:
1st Place - $500
2nd Place - $250
3rd Place - $100
Discounted Entry

Get 50% Off when you stay one night or more at any Big Bear Lake lodging OR when you rent a pontoon from these marinas:
Other Discounts:
First Responders & Active/Retired Military: $20 Off individual entries
Locals & Second Homeowners: $10 off individual entries
Family discount: 50% off 1 child entry with adult entry paid at full price.