Big Bear Speedway & Ropes Course
42825 Big Bear Blvd
Big Bear Lake, California 92315
909 585-0075
website
Big Bear Speedway – Spring, Summer & FallBig Bear Speedway delivers a real racing experience with full-featured SODI RT8 Karts, complete with innovative technology. Choose either a single kart or double training kart with two steering wheels for double riders. Compete against the clock while reaching speeds of up to 30 mph on a 1/5 mile open-air racetrack filled with hairpin turns and s-curves.
Big Bear Ropes Course – Year Round (Weather Permitting)
New and exhilarating aerial adventure that will have you balancing on ropes, crossing bridges, and climbing through obstacles: all from the safety of a climbing harness! Participants are on a self-guided tour through 37 obstacles spread over 6,400 square feet on 2 levels that are 12 to 35 feet in the air! Elevate your family vacation to a whole new level.


Big Bear Lake Summer Bucket List
Posted: 05/24/22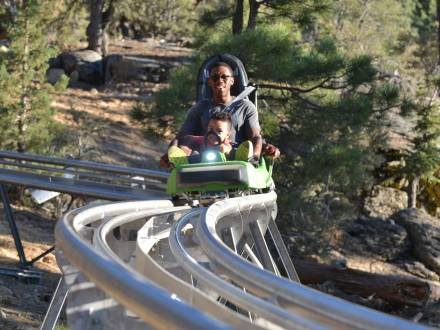 Racing Into Fall: High Speed Action Adventures!
Posted: 08/31/20
There's always a new adventure to be had in Big Bear Lake, and for all those thrill seekers out there, the possibilities for epic fun abounds this fall!
Spring Family Fun in Big Bear Lake
Posted: 03/12/19