Pet Safety in Big Bear Lake
Posted: 06/29/23
Your four-legged friend can be the perfect companion on your vacation in Big Bear Lake. Exposure to the sights and smells of the wilderness is invigorating and plays to your dog's natural instincts. However, it's important to remember that dogs don't handle heat, cold, and exercise the same way humans do. Be sure your getaway is not only fun but safe for you and your dog.
Pet Safety in the Summer
Big Bear Lake sits at an altitude between 6,000 and 8,000 feet. Higher altitudes drain your energy - and your dog's energy - more quickly, triggering dehydration and exhaustion more easily. When taking your dog on a hike or long walk in Big Bear, plan for additional water breaks. Even if your dog doesn't seem tired, the goal is prevention.
While Big Bear summer temps tend to be mild, temperatures above 75 degrees F can become dangerous quickly. Dogs are more susceptible to heat exhaustion and dehydration. Hot surfaces like asphalt can burn your dog's paw pads. Plan your summertime jaunts for mornings and later afternoons, and carry LOTS of water for your dog. Never leave your dog in your car!
Watch For Cues
Knowing the symptoms of heat exhaustion in your dog are crucial. Keep an eye on:
excessive panting
dry/pale gums
increased salivation
rapid pulse
weakness
vomiting
If your dog sits down and refuses to continue, they are long overdue for a break. Take the time to move them into a shady area and cool them off with water. Let them decide when they are ready to continue.

Lake Safety for Your Dog
While dogs are welcome to play and swim along the shoreline of Big Bear Lake, it's important to monitor their fun. Keep an eye on how far they're swimming and be sure they can safely return to shore. Never let your dog drink the lake water or scum along the shorelines. Always rinse off your dog once their water play time is over.
Overly hot weather should be avoided, as dogs are much more susceptible than humans to the dangers of excessive heat. It's also essential that you take water for your dog. Dogs don't sweat the way humans do. Panting is their main method for keeping cool, putting them at a higher risk of overheating than you when on the trail. Plus, if you don't bring water for your dog to drink, you risk your dog drinking from ponds, streams, or standing pools of water, which can carry a high risk. American Kennel Club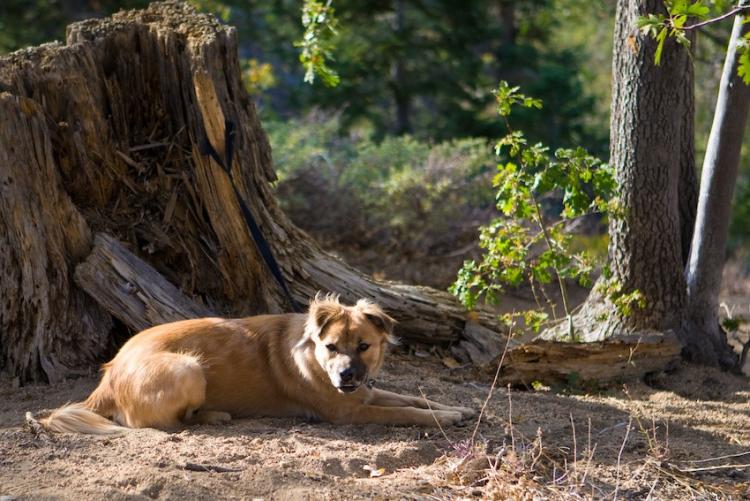 Pet Safety in the Winter
Winters can be frigidly cold for your dog. Even with a heavy fur coat, some colder temperatures may be too much for your pup to handle, especially for extended periods.

From The Daily Wag:
How do I know if my dog is too cold? A simple rule of thumb is...If you feel cold, your dog does too. Once temps drop and ice and snow form, be careful and consider this:
Paws in the snow and ice get cold very fast. Even thick-coated dogs who love the snow are probably not conditioned for the cold weather.
Small dogs should wear coats or sweaters outside to keep warm.
Booties are a good idea if you are walking your pets where there's ice or snow.
Use only pet-safe ice melt for defrosting your sidewalks and patios. Many de-icers contain salts that are harmful to your pet if licked. Be sure to clean off your dog's feet to prevent ingestion of toxins.
How long in the cold is too long for my dog? Even if your dog seems to enjoy the cold weather, there's such a thing as too much of a good thing. Ultimately, it's a judgment call — yours. When it gets too cold for you to tolerate, the same applies to your dog.
Other Considerations
Just like humans, dogs can slip and fall on ice and snow. Veterinarians see many torn ligaments in the winter and often the treatment requires surgery. It's best to keep your pet on a leash while outside and avoid buildups of ice where they can slip. If your dog is arthritic, keep in mind that it may be more difficult for him to move around in the winter. Be sure to make it easy for him to walk outside.

Never leave your dog in your car!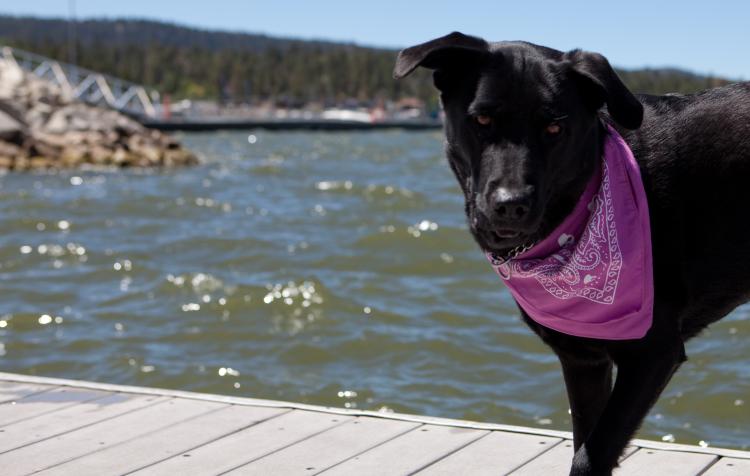 General Pet Etiquette
No matter where in Big Bear you are, always carry a supply of:
Poop bags
A collar with ID tags and a sturdy 6-foot leash
Water supply and a portable water bowl
A pet first aid kit
Pet-safe insect repellent
A dog life vest for added swimming safety
It is not recommended to let your dog drink from Big Bear Lake or other water bodies.
Dog booties for hiking in rough terrain and on hot asphalt
On the Trails
Bag your pet's waste Always leash your pet Respect wildlife Know where you can go American Kennel Club
Proper etiquette on the trails is essential for the safety and enjoyment of yourself, your dog, and other trail users. It is your responsibility to ensure your dog is properly trained to obey commands. Encounters with wildlife can be dangerous if your dog decides to chase other animals or become aggressive with other dogs.

The National Forest Service allows for dogs in wilderness areas, though they must be on a leash no longer than 6 feet and under your control at all times. Dogs are prohibited in the San Jacinto State Park Wilderness.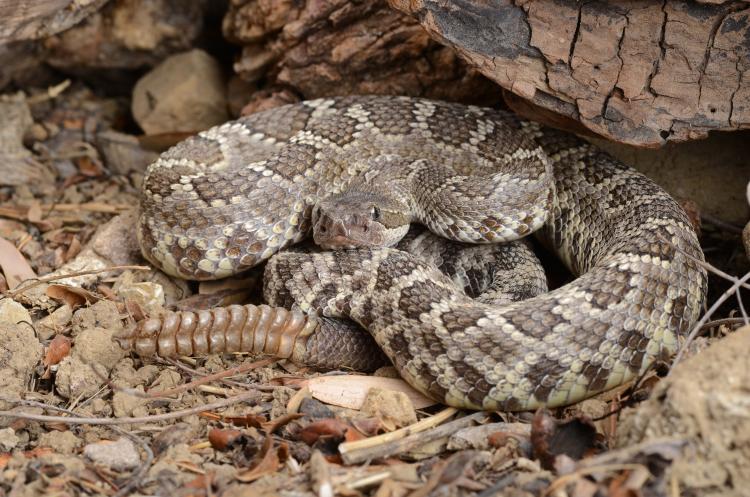 Wildlife Safety for your Pet
Rattlesnake Safety
In the warmer months, rattlesnakes can pose a threat to dogs - and humans! - out on the trails. It's worth investing in rattlesnake aversion training to help protect your pooch from snake attacks. Here are some snake info and aversion training websites to get you started:

https://socalrattlesnakeavoida...