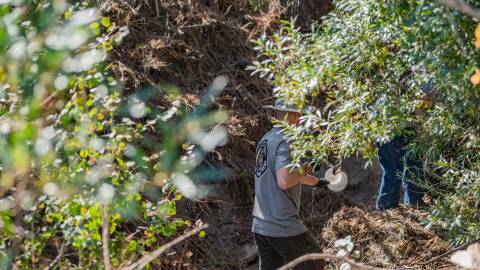 Big Bear for a Sustainable Future
Posted: 05/09/23
Big Bear Lake stands apart from Southern California communities with its seasonality, rich natural environment, close-knit community and resort town identity. However, like everywhere else, it's susceptible to environmental damage and limited resources.
Our community businesses and organizations take the responsibility of sustainability seriously. Big Bear relies on its beautiful natural environment to drive recreation and visitation making sustainability a priority.
See what Big Bear groups and businesses are doing today to better our valley and see what's in the pipeline for a better tomorrow:
Boots on the Ground
One of the simplest ways Big Bear lovers have contributed to a sustainable valley is through trash clean-up. Groups like Care For Big Bear, Restore the Bear, NativeScapes, the Mountains Foundation, Big Bear Alpine Zoo, Snow Summit Race Team, Big Bear Mountain Resort, the City of Big Bear Lake, and AirBnB, have put in many hours to remove thousands of pounds of trash from the lake shoreline, picnic areas, trails, creeks, and parks. Find ways to volunteer and get involved!
Tara Antongiorgi from AirBnB's Big Bear Valley Host Club discusses the importance of AirBnB hosts truly connecting and supporting the community they're in.

I took on the role of [AirBnb] Community Leader in October of 2020. My vision for this program was always to be a catalyst for community involvement. You can talk about your values and frankly "your value", meaning you can talk about what you as a STR owner contribute monetarily to the community all day long. But, showing up and getting your hands dirty communicates volumes. If you care you show up; that is sincerity.
The AirBnB Host Club Program is fairly new, just starting within Airbnb in January of 2020, Antongiorgi explains. One goal of the group is to share best practices amongst STR owners on how to be a better Host, a better community advocate, and how to best communicate expectations to guests.
I am given the freedom to lead my group as I see will benefit all of us; hosts and the wider community...Airbnb is empowering us to be responsible and respectful hosts within our Community...they understand we know our communities.
Antongiorgi looks to partner with the community of future environmental projects, because together we are all stronger!
Community Leaders
Looking for ways to join in the environmental efforts? Get to know the organizations leading the way for a greener, more sustainable Big Bear and organizations offering volunteer opportunities and sponsorships: