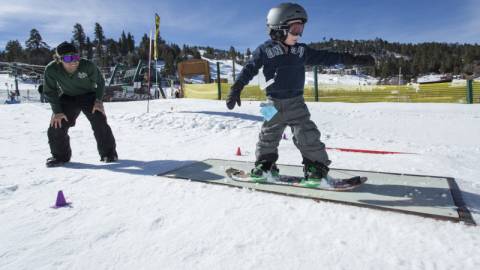 A Christmas Gift That Lasts A Lifetime!
Posted: 11/21/23
Think outside the gift box this holiday season and gift an unforgettable experience.
Big Bear boasts the best skiing and snowboarding terrain in Southern California, so why not gift this unforgettable experience to a loved one this holiday season?
Learning to ski or snowboard is a lifelong skill and gives adventurous folks access to an exciting activity enjoyed world-round. Big Bear's two ski resorts both offer beginner terrain where new pupils can learn skiing and snowboarding in a safe and controlled environment. Highly qualified instructors at Snow Summit and Bear Mountain are committed to teaching the fundamentals while keeping things fun and fresh.
Big Bear Skiing & Snowboarding Holiday Gift Ideas
Lift Tickets
Gift a Full Day lift ticket valid for 1, 2, or 3 days. These lift tickets are valid at both Snow Summit and Bear Mountain. Pricing is age/day of week based.
If a full day on the slopes is a little ambitious, gift a Half Day ticket valid in the later half of the day at both Snow Summit and Bear Mountain.
On select nights, Snow Summit stays open after hours for Night Sessions. These tickets are valid from 3 - 8:30 PM.
Season Passes
Gift an entire winter season at Snow Summit and Bear Mountain with Season Pass options.
Ski & Snowboard Lessons
First timers on the slopes are recommended to take lessons from professional ski and snowboard instructors. Lessons cover everything from proper equipment use, to chairlift safety, to proper ski and snowboard technique. Book group or private lessons.
Lessons aren't just for beginners either, intermediate and advanced skiers and riders can also benefit from skill building lessons in the park and around the mountain.
Ski & Snowboard Rentals
Perhaps your gift recipient already has the skills just not the equipment. Reserve rental skis and snowboards in Big Bear.