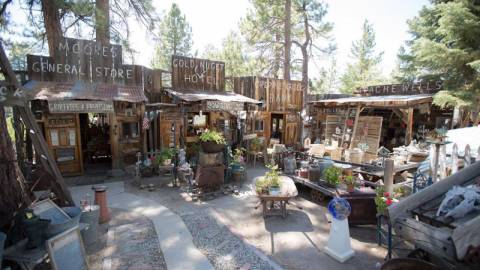 Vintage, Antique And Thrift Shops In Big Bear
Posted: 09/15/20 | By Big Bear Lake
Discover the unexpected. Are you one of those folks who love to browse antique shops and thrift stores while you're traveling? I am.
Big Bear Lake has several shops that can keep you occupied for hours and hours of sheer browsing pleasure. Whether you are hoping for rare finds of mid-century modern collectibles, distressed farmhouse pieces, or the bohemian gypsy look that is wildly popular, you can find a little bit of everything in the antique shops in Big Bear.
You'll find collectible items like cast iron cookware, wood duck decoys, fine jewelry, antique toys, advertising signs, clocks, antlers, lanterns, distressed furniture as well as beautifully restored antiques. The list goes on and on.
Check out the thrift stores for good deals on second-hand, gently used cabin decor, household items, flannels and jackets, and sports gear. Also, a great place to grab a quick vacation read for those wintry nights near the fire or long summer afternoons by the lake.
Fox Farm Antique Mall
42146 Fox Farm Rd.
Rd. | 909-866-0618
Thursday - Tuesday 10AM - 5PM
20 individual antique dealers all in one location. Beautiful antique furnishings, art, and collectibles. Owners are friendly and knowledgeable.
North Shore Antiques & Collectibles
39220 North Shore Dr. | 909-878-3235
Thursday - Monday 10:30AM - 5PM
Open all major holidays
Don't be fooled by the small appearance of this antique store in Fawnskin. The shop owner holds the majority of this easy-to-browse floor space with the back area giving way to 5 individual antique dealers. Beautifully displayed antique furnishings, collectibles, jewelry, and art.
Nestings Vintage
39307 Big Bear Blvd. | 760-413-1950
Friday - Sunday - Hours vary - Call ahead
(Seasonal store. Open May - October)
This delightful little shop in Boulder Bay is jam-packed with a combination of vintage collectibles and small furniture pieces for the cabin. Open from May through mid-October and the hours vary, so call ahead.
Heidi's Consignment
41658 Big Bear Blvd. | 909-866-4508
Monday - Saturday ⋅ 10AM - 5PM Sunday 11AM - 4PM
4,000 SF consignment mall where you can find hidden treasures of fine jewelry, art, furniture, consignment clothing, and antiques.
Doves Nest Thrift Store
217 W Big Bear Blvd. | 909-585-5698
Monday - Saturday ⋅ 9AM - 5PM Sundays 11 - 4
(Closed the 3rd Sunday of each month)
Two-story thrift store featuring gently-used items including clothing, household goods, crafting items, sports equipment, and electronics. The non-profit shop benefits local domestic violence education programs.
Hummingbird Project Thrift Store
400 W Big Bear Blvd. | 909-584-8642
Open Daily ⋅ 12 Noon - 5PM
Non-profit thrift store with gently-used items including clothing, household goods, crafting items, skiwear, and holiday decorations.
Big Bear Senior Citizens Thrift Store
1013 W Big Bear Blvd. | 909-585-0131
Open Tuesday through Saturday 10AM - 3PM
Non-profit thrift store featuring everything from clothing and jewelry to sports equipment and household goods.