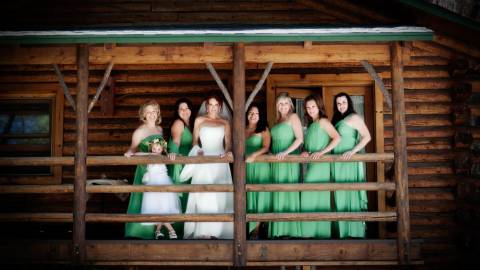 Saying 'I Do' Above It All
Posted: 04/21/20
Southern California's best wedding venues are closer than you think!
Though Big Bear Lake is just a couple of hours away from the hustle and bustle of the city, it feels like a world away among the pine forests, fresh air, and gleaming alpine lake. In other words, it's the perfect place to say 'I do'! From a gorgeous lakeside ceremony, to a festive garden wedding, a celebration in a rustic mountain lodge, or an exchange of vows at a wooded gathering, Big Bear is set to fit your dream wedding!
Lakeside Nuptials
A ceremony along the shores of Big Bear Lake surrounded by forested mountains is a treat for everyone. Explore lakeside venues or book a scenic excursion aboard one of Big Bear's four tour boats.
Vintage Lakeside Inn - More suited for a small elopement ceremony, this lakeside lodge offers views, rooms, and mountain fresh air.
The Pines Lakefront or The Pines Tavern - Celebrate your nuptials with a ceremony and upscale lakeside dining at this steak and seafood restaurant.
Noon Lodge – This woodland retreat offers the ideal woodland wedding backdrop with amenities fit to host an elaborate ceremony, an intimate gathering, a dining and full reception experience, and lodging.
A Rustic Wedding Among the Pines
A woodland wedding offers a unique take on any wedding ceremony and Big Bear is certainly the perfect wooded spot. Or say 'I do' at one of Big Bear many rustic mansions or cabin resorts:
Grey Squirrel – With an impressive history of top notch event planning, Grey Squirrel can accommodate your wedding ceremony, reception, and offers a variety of venues. Take a look at their Edgewood Mansion and Vacation in the Village venues.
Knickerbocker Mansion - The historic mansion dates back to the 1920s. Since, the former home was first renovated into a Bed & Breakfast, and now stands as a unique venue for special events and lodging.
Gold Mountain Manor - Built in 1928 by movie investor Alexander Buchanan Barret, the home was eventually converted into the Gold Mountain Manor preserving the original chandeliers and hand-painted ceilings - the perfect venue for your rustic wedding.
Shay Meadows Ranch & Resort - The Ranch offers a stunning mountain-top backdrop for your wedding, plus multiple on-site properties for family and guests.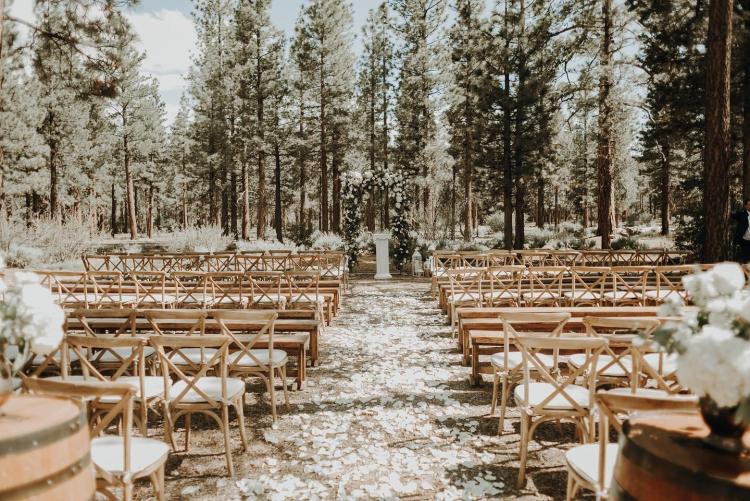 A Garden Wedding
A beautiful ceremony among colorful flowers and tall pines makes for a classic springtime wedding. Discover what these quaint yet gorgeous venues have to offer:
Apples Bed & Breakfast – This is the ideal venue for smaller, intimate affairs highlighted with colorful blooms set next to the iconic Apples mansion. This Victorian style B&B also brews some scrumptious teas along with highly rated lodging.
A Fairytale Wedding
Castlewood Cottages - Planning a fairytale or Renaissance themed affair? Be sure to add a stay at Castlewood Cottages with their King Arthur, Cleopatra, Enchanted Forest, and other themed suites.
Best Western Big Bear Chateau - At a little glitz and glamour into your special day when you book your wedding at the French inspired Big Bear Chateau. This highly rated venue includes an option for a ballroom wedding or a garden ceremony and, of course, beautiful suites for the bride and guests.
Into The Woods - This secluded wedding venue offers a romantic fairytale escape into the woods to tie the knot.
Wedding Party of Many!
Big Bear may be a small town but that doesn't mean you'll need to compromise on your number of guests.

The Lodge at Big Bear Lake - The Lodge at Big Bear Lake, a Holiday Inn specializes in large gatherings and can accommodate up to 400 guests.
Big Bear Lake Convention Center - For extra room, call the Convention Center to inquire about seating for up to 1,400.
Let them Eat Cake!
We feel safe saying that you're set to be amazed by the work of Sister My Sister Bake Shop. This local bakery specializes in high end cakes, pastries, and more. Visit their Instagram and Facebook accounts to get a taste – pun intended – of their range of talent!

Chef Allan At Your Service
The perfect wedding venue deserves a meal equally as fitting! Chef Allan of A Gourmet Personal Chef is ready to take your dining experience up a notch with Michelin standard entrees for you and your guests.