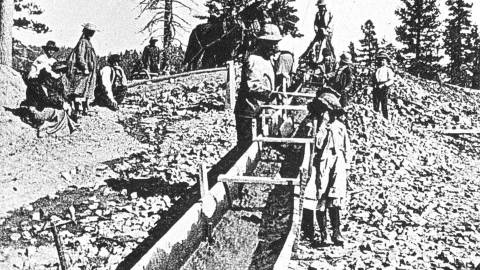 What's In a Name?
Posted: 07/11/22
Starvation Flats, Holcomb Valley, Treasure Island and others. What are the origins of Big Bear's best named areas?
Big Bear Lake
You may already know this, but we'll tell you anyway. In 1845, a man named Benjamin Wilson lead a group of men into the San Bernardino Mountains to search of Serranos who had been raiding ranches in Riverside. Upon arrival, he discovers the valley is crawling with Grizzly bears and gives the area the name it has today. Today's Big Bear Lake didn't exist at that time, so this name referred to what is known as Baldwin Lake. (bigbearhistorysite.com)
Starvation Flats
Big Bear's gold rush began at the corner of today's Stanfield Cutoff and Big Bear Boulevard. In 1859, the area was known as Starvation Flats (the street name still exists) and was home to a small group of prospectors searching the area for gold. As the name implies, they weren't having much luck. (bigbearhistorysite.com)
Treasure Island
This one goes by a few names. Also known as China Island and Garstin Island, this unique house on a rock dates back to c. 1910-1912. Herbert Garstin, head of Bear Valley Mutual Water Co, had the idea to add a home to the spot upon learning that the second dam (completed in 1912) would turn his favorite peninsula hangout into an island. His wife Maude designed the home to reflect her deep love for Chinese culture and architecture.
Holcomb Valley
A miner named Bill Holcomb arrived in Big Bear in the winter of February 1860. The valley was covered in snow and he set up camp in Starvation Flats, joining up with other miners who were already there. Food was in short supply, so Holcomb and another miner decided to go hunting. From Starvation Flats they headed north across the valley climbing up to today's Bertha Peak area. From the top of this ridge Holcomb gazed at a lush green valley that would eventually bear his name.

The miners headed back to camp with two bears they'd hunted and a plan to return to the lush valley in search of gold. In short, they were successful. After returning to Big Bear Valley to report their find, news travelled quickly and by June 1860, over 300 men were at work in the Holcomb Valley. By September, there were over 1,000 men working gold claims. (bigbearhistorysite.com)

Serrano Campground
The Serranos are Big Bear Lake's indigenous people. Two known Serrano clans lived in/near the Big Bear Valley until the mid 1800s. The Yuhaaviatam (now the San Manuel Band of Mission Indians), and the Pervetum. (SBCounty - Cultural Resources Report)
Baldwin Lake
This natural lake dates from the Ice Age and the Baldwin Lake name is an ode to Elias J. Baldwin (Lucky) who initiated the second gold rush in the valley. Today, the Baldwin Lake Ecological Reserve is home to the Pebble Plains, an ecosystem so unique that is only found here in the Big Bear Valley!
Gold Mountain
The first gold rush in Big Bear Lake fizzled out in 1862 due to lack of mining resources. The second gold rush was initiated by a man named Elias J. (Lucky) Baldwin. Lucky Baldwin was a multimillionaire who had struck it rich at the Ophir Mine in Nevada. In 1873, Baldwin investigated mining possibilities in Big Bear Lake and purchased a claim at the northeast end of what is now Baldwin Lake. He incorporated the Gold Mountain Mining Company and opened a stamp mill at the base of today's Gold Mountain.
Fox Farm
The All Star Fox Farm, Big Bear's most successful fox farm, was established in 1928. The fur industry enjoyed high demand world wide and for about 10 years, the All Star Fox Farm enjoyed big businesses managed by the McAlister family. With the coming and going of World War II, a saturated market, and changing attitudes towards the fur market, demand for fox fur drastically declined and by 1950 the industry was effectively dead in Big Bear.

Many of Big Bear's historical figures can be identified throughout the valley in street and neighborhood names. Metcalf Bay, Talmadge Rd, Rathbun Creek, Knight Ave, Van Dusen Canyon Rd, Shay Ranch Rd, Knickerbocker Rd, Bartlett Dr and more all pay homage to the community's pioneers.