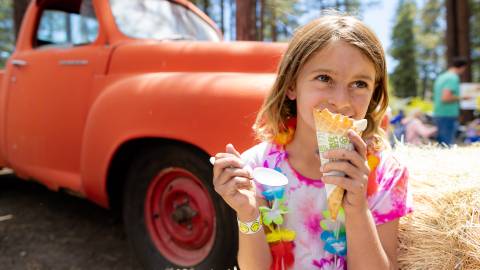 Family Friendly Restaurants In Big Bear
Posted: 03/19/15 | By Tina Hauer
Finding family friendly restaurants on your vacation can be a headache. I have the perfect family friendly (along with some pet friendly) dining options.
When one thinks dining, they may think of exotic cuisine, varied tastes, the frequented corner restaurant or even fast food... During a vacation, food can be either the highlight or the most stressful aspect. Have kids? Little ones? I am pretty sure you know what I am talking about when I say dining out becomes a family affair.
Finding family friendly restaurant options on your vacation can be a headache – especially with Fido! Pet friendly dining is too little and far between when you are trying to wrestle the kids into eating healthy or even just eating out. Fear not Big Bear Lake visitors – I have the perfect family friendly (along with some pet friendly!) dining options just for you. We have breakfast, lunch and dinner covered during your upcoming or current Big Bear Lake adventure. If you're heading up for snow or for the sun during Big Bear's one of four popular seasons, the activities kids can participate in are endless! After all that hiking, sledding or ski lessons the kids and bound to be looking for grub. Here are some personal family friendly places my kids enjoy every season.
The most important meal of the day is breakfast - it has been proven! For any active child or family, a hearty meal is the only way to start the day. We like to head over to Old Country Inn. This restaurant has been a staple of Big Bear Lake for several years. Kids will enjoy a special menu just for themselves, and adults can enjoy savory specials such as Huevos Rancheros, country skillets, cinnamon roll french toast and more.
My kids love the different places to eat in Big Bear Lake – lunchtime is their favorite time! Amangela's Sandwich and Bagel House offers indoor and outdoor seating along with kid-friendly food such as tasty sandwiches and chips. The owners are good people who serve quality ingredients in their food and use organic and fair trade produce as much as possible. Located in the The Village downtown, they are just a few blocks away from the lake and local movie theater for some after lunch entertainment.

What kid doesn't like pizza? And games? And lasers? The Bowling Barn has all this, plus glow bowling (in evenings) for the kids along with added bumpers if needed as well as regular bowling for the adults to partake in. You can also try the bar food from their mini restaurant and karaoke if the kids have a Nanny along, allowing the adults to make the most of your evening out in Big Bear Lake.
If you are looking for something different than burgers or pizza. Try the Himalayan Restaurant in The Village. This Indian and Nepalese restaurant has a large menu with a great range of savory flavors and includes kid-friendly and vegan-friendly options.
For breakfast, lunch and dinner, another great option in Nottingham's Tavern. Families can enjoy classic favorites for kids, including chicken fingers, mac and cheese, grilled cheese and beef sliders. If all else fails and you're hosting a lot of kids and adults, check out Big Bear's own personal chef - with a flair of custom main courses and special desserts, you can't go wrong! Chef Allan even caters to personal homes with kitchens.