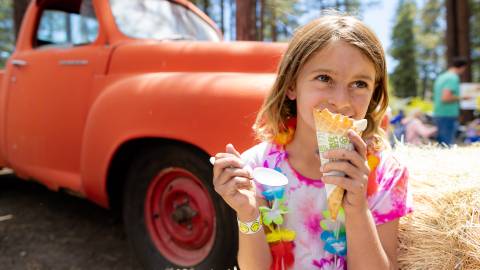 Family Friendly Restaurants In Big Bear
Posted: 03/19/15 | By Tina Hauer
Finding family friendly restaurants on your vacation can be a headache. I have the perfect family friendly (along with some pet friendly) dining options.
When one thinks dining, they may think of exotic cuisine, varied tastes, the frequented corner restaurant or even fast food... During a vacation, food can be either the highlight or the most stressful aspect. Have kids? Little ones? I am pretty sure you know what I am talking about when I say dining out becomes a family affair. I have the perfect family friendly dining options just for you!
The most important meal of the day is breakfast - it has been proven! We like to head over to Old Country Inn. This restaurant has been a staple of Big Bear Lake for several years. Kids will enjoy a special menu just for themselves, and adults can enjoy savory specials such as Huevos Rancheros, country skillets, cinnamon roll french toast and more.
My kids love the different places to eat in Big Bear Lake – lunchtime is their favorite time! The Barnstorm Restaurant located at the Big Bear City Airport lets diners watch the airplanes take off and come in for a landing!

What kid doesn't like pizza? And games? And lasers? The Bowling Barn has all this, plus glow bowling (in evenings) for the kids along with added bumpers if needed as well as regular bowling for the adults to partake in.
If you are looking for something different than burgers or pizza. Try the Himalayan Restaurant in The Village. This Indian and Nepalese restaurant has a large menu with a great range of savory flavors and includes kid-friendly and vegan-friendly options.