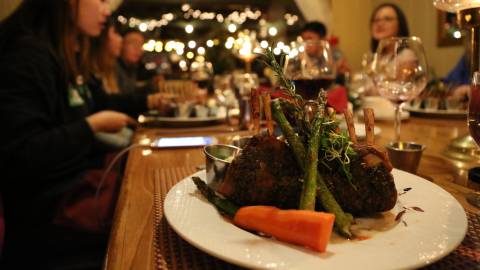 Big Bear Lake Fine Dining
Posted: 08/13/23
Special occasions call for finer dining experiences to celebrate your most important events: an anniversary, a graduation, Mother's or Father's Day, or anything else. See our top picks for the finer plates in Big Bear Lake.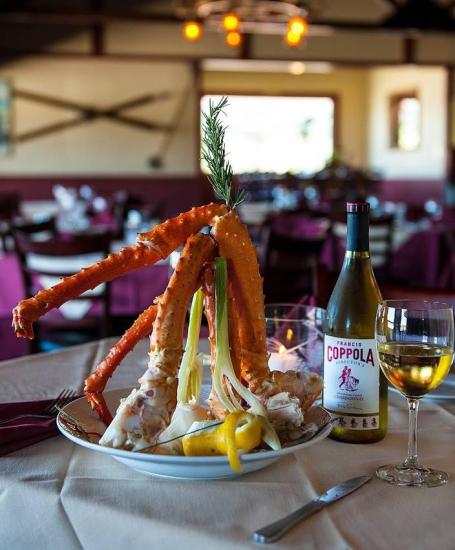 The Pines Lakefront location has been home to a number of lakefront restaurants since the 1920's. With a commanding view of Big Bear Lake and surrounding mountains, diners can relax indoors or out under the pergola.

With an open beam ceiling, luxurious carpet and wood floors, the décor fits the mountain town of the 1930's and 40's and brings back fond memories of the "good old days". Live piano music also entertains on select days.

The Pines Lakefront specializes in steaks and seafood with options including Black Angus beef, Midwestern pork, poultry, fish, seafood and an assortment of game including venison, wild boar and elk. A cellar is stocked with some of the great wines of the world.

The Pines Tavern
Sit back and enjoy what is truly the best view in Big Bear Lake. Adjacent to The Pines Lakefront, the Pines Tavern is a swanky spot to sip a martini, gin cocktail or glass of beer or wine. Live music entertains every weekend in the lounge featuring the piano artistry of Mike Cross and friends.
The Tavern offers a Full Bar and Authentic Santa Maria BBQ cooked over a Live Red Oak fire. Savor aged Tri-tip coupled with pinquito beans from the California Central Valley. Pair it with a fine Pinot Noir and let the memories begin.
Santana & Maverick's
Santana and Maverick's has a little of everything on the menu. Browse French, Asian, Italian, American, and Mexican cuisines in a spacious dining room with lake views.
The Himalayan
The Himalayan Restaurant in The Village is proud to serve a variety of authentic selections popular in Nepal, Tibet, and northern India. Chefs use only the freshest ingredients, herbs, and spices to prepare entrees.
The dining room sets the tone with its colorful decor highlighting the culture and customs of India and Nepal.
Captain's Anchorage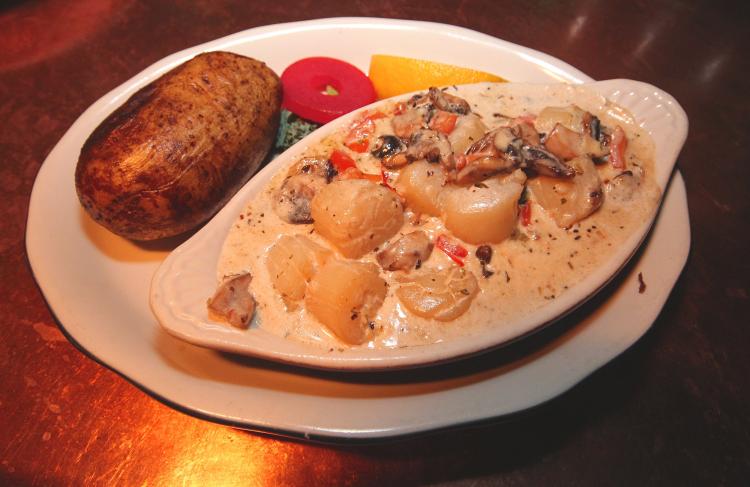 Since 1947, The Captain's Anchorage is one of Big Bear most popular steak and seafood houses. Step back to the "Big Bear of Yesteryear" while enjoying great food and ambiance in this rustic stone and log cabin retreat. The restaurant has witnessed years of history, entertained Hollywood celebrities, and is home to a cool and groovy ghost.
Stillwell's Restaurant

This memorable dining experience is about more than food. It's where the warm host, witty bartender, and savvy waiter treat you like family. Old-time favorite recipes have been combined with progressive California-style cuisine and an added local flair. The Chef and his staff use only pure, natural ingredients combined with premium meats, selected seafood and poultry and specialty produce.
Sweet Basil Bistro

Treat yourself at Big Bear's original Italian Bistro, located steps from the heart of our Village. Open for lunch and dinner, Wednesday through Sunday, we feature a boutique wine selection and craft cocktails to begin. Our house made sauces and additions offer endless possibilities to build your own pasta. A varied selection of lunch paninis, salads, fish, steaks and seafood complete our menu, with many vegetarian, vegan and gluten free options available. Dinner reservations are highly recommended and available at sweetbasilbistro.net