Wild Bird Walk with Chirp Nature Center
578 Bonanza Trail
Big Bear Lake, California 92315

Time:
8:00 AM to 9:30 AM
Location: Chirp Nature Center
(888)-412-4477
website
Welcome Summer by Exploring Nature
Starting from Chirp at 8AM on June 4th, 2022, join us for a FREE, educational bird walk in the heart of the San Bernardino National Forest. Surrounded by pine trees, this remote spot includes open meadows and a unique alpine lake. Spot radiant red-wing blackbirds, dabbling ducks, and wiley woodpeckers. Chirp's Wild Bird Guides will share tips and tricks to enhance your bird identification skills and better your bird brain. (Note that exact bird walk locations are determined immediately before the walk begins based on conditions and group size.) Birdwatchers of all ages and levels are invited to join this event. Space fills up quickly, so be sure to register to secure a spot.
Registration opens in April.
Due to the popularity of our events, we strongly encourage all guests to pre-register. Check back in April to sign-up. Our events often reach capacity, so take advantage of free registration to secure your spot on our birding team. Once registered, you will receive a confirmation email with instructions for checking in. Guests that have RSVPed should meet at least 30 minutes early on June 4th, 2022 at Chirp Nature Center (578 Bonanza Trail, Big Bear Lake) to check in for an 8AM start. Forgot to register? Please arrive 30 minutes early to the event, and we will do our best to accommodate you if there are empty spots or no-shows. For further questions, email us at events@chirpforbirds.com or call us at (888)-412-4477.
Tips on how to prepare.
Wear comfortable attire such as layered clothing, breathable pants/shorts, and walking shoes.
Use a bird checklist. Chirp offers a free local Checklist for the Big Bear Valley and can provide printed copies with pens at Walk check-in.
Take a camera or phone with a camera.
Bring a pair of optics for a better view.
Carry your own water. Refillable water stations are not available during the hike. Weather in the San Bernardino Mountains can vary dramatically. Read more about preparing for Big Bear Lake's variable weather.
Wear Sunglasses or protective eyewear.
Use sunblock as UV rays in altitude are stronger.
Remember, Chirp also has basic gear for a bird walk in the woods should you need anything.
Upcoming Dates For This Event:
Saturday, July 2
Saturday, August 6
Saturday, September 3
Saturday, October 1
Related Partners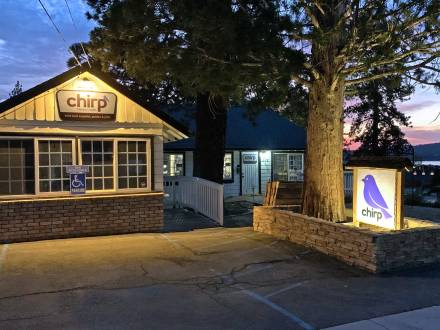 Specialty Gifts
578 Bonanza Trail
Big Bear Lake, California 92315