Book & Craft: Build A Bird Feeder With Chirp
578 Bonanza Trail
Big Bear Lake, California 92315

Time:
11:00 AM to 1:00 PM
Location: Chirp Nature Center
Contact: Chirp Nature Center
(888) 412-4477
website
Build a Bird Feeder with Chirp
Join Chirp Nature Center on September 17th, 2022 at 11AM for a special book reading and wild bird-themed craft. To kick off the event, local educator and wild bird enthusiast Scott Waner will read a fun-filled story about observing and appreciating the natural world right outside your window. Following the book reading, Chirp's Team will teach you how to build a creative and easy Bird Feeder to attract wild birds to your own backyard. Once your craft is complete, shop Chirp's variety of nature-based books and toys and take your feeder home to enjoy. This special event is fun-filled and geared towards young naturalists, but nature lovers of all ages are welcome. Don't forget to register for this event and purchase your Craft Kit ahead of time. Hosted outside in Chirp's backyard, craft table seating is on a first come first serve basis and space is limited. We will adjust as weather conditions dictate, but we plan to be comfortably outdoors in the shining sun, so be sure to dress appropriately based on the weather.
Chirp Crafts Event Schedule
10:30AM - 11AM: Check in
11AM: A Wild Bird Book Reading with Scott Waner
11:30AM - 1PM: Build a Bird Feeder (following the book reading)
Learn more about this event and register online today.
Related Partners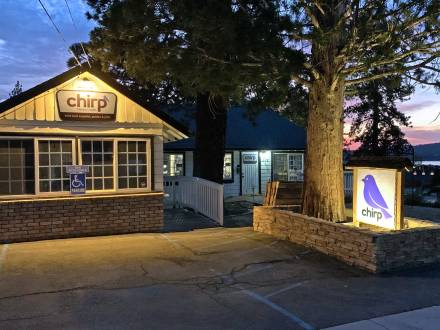 Specialty Gifts
578 Bonanza Trail
Big Bear Lake, California 92315