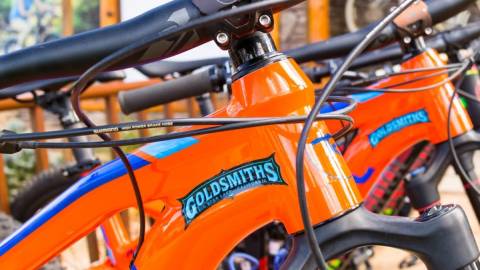 What to Look for in a Bike Rental
Posted: 08/03/20 | By Goldsmiths Sports
Renting a bike is a great way to enjoy Big Bear Lake with the family and get a great workout while doing so.
Save the hassle of hauling up gear during your visit and get the perfect rental that fits your riding needs. Big Bear Lake has hundreds of miles of bike paths, dirt trails and mountainous roads for cycling/biking and is a community that is friendly to both novice and elite riders. Whether you want to experience the thrill of downhill riding or the leisure of a flat, scenic path, there is a trail fit for you in Southern California's Mountain Lake Escape.
What bike is right for me?
If you are looking for a leisure ride on the Alpine Pedal Path, a standard bike rental would be a great, affordable option to enjoy an afternoon. Are you interested in exploring a dirt bike path such as the Skyline Trail? Then a full-suspension bike rental will better suit your needs. Serious downhill riders will look to rent the full suspension or Downhill bikes for the Snow Summit park. Last but not least, a great option for beginners and those with physical impairments is a premium electric rental. Explore more rentals here!

What to budget for in a bike rental
For most rentals, you can expect a two-hour minimum. Standard bike rentals start at as low as $30 per day. Be sure to also rent a helmet (for just $5/day, it could save a trip to the hospital!) Full suspension rentals will be a little more expensive, and downhill bike rentals as well as premium electric rentals will cost the most, at about $90/half day.
What else can I rent?
Protective gear is available for rent, as well as bike racks and carriers.
What About Hiking Gear?

Explore comfortably with the no. 1 show for the Pacific Crest Trail. Other hiking accessories and maps are available for purchase at the same location you can rent bikes.
Where can I rent my bikes and gear?
Goldsmith's Sports is a great option with knowledgeable staff that will share their love of the mountains and outdoors with customers. In operation for three-decades. This family-owned store not only offers rental services, but has plenty of gear and fashionable clothing too!
*This is a sponsored post by Goldsmiths Sports.