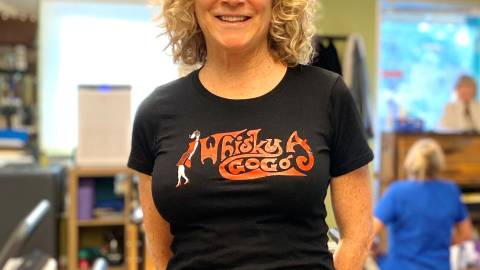 Practice Makes Stronger
Posted: 02/10/22 | By Jess Madison
Gaining length and strength at Big Bear Pilates
If you're looking for a low-impact way to stay fit and gain strength in your day-to-day life, look no further than Big Bear Pilates.

Big Bear Pilates has been part of the local community since 2013. Originally led by founders Siri Dharma Galliano and Vil Shaynurov, the studio has been run by former student and current owner, Patty Hafen, for the past seven years.

Hafen has been a Big Bear resident for more than three decades. While fitness, especially running, was always an important part of her life, a painful back injury led her to Pilates in 2001. Once she found it, she was hooked. She became a certified instructor in 2003, and nearly 20 years later, she's still just as excited by the practice as she was when she first began it.

"There is always more to learn, that's what I love about it," she says.

So—what is Pilates? It's a type of low-impact exercise that strengthens muscles, improves alignment, lengthens one's body, and increases flexibility. Using special machines, students gain strength by pushing and pulling against springs designed to create physical resistance in a safe, controlled way. While many think of Pilates as a "women's" exercise, Hafen says it was originally developed for men practicing boxing and acrobatics. Today, it's an ideal way for almost anyone to improve core strength and overall health.

"We focus on functional movement here," Hafen says. Rather than building muscle for muscle's sake, for instance, students focus on building everyday strength, improving posture, flexibility, stability, and movement—things that prepare their bodies to live long, healthy, independent lives.

Hafen is not a physical therapist. Many of her students, however, have found that Pilates can help alleviate back pain by lengthening the spine and increasing the space between vertebrae.

"My goal is to help people reach their fitness goals, overcome limitations in movement, and gain optimum movement and flexibility," she says.

Hafen's classes are small: six students maximum. Covid-19 health and safety precautions are always a priority; the studio features two air cleaners for maximum filtration, and machines are disinfected between every use. In addition, private and duet sessions are available for those who feel uncomfortable in a group setting.

Those personal touches are what make people feel so comfortable and keep them coming back for more.

"Patty immediately made me feel welcome, even though I had never done a Pilates class in my life," says Shelli Kahl, a current student. "From my first class, I felt as if this was something I could do. Patty was very respectful of my previous arm injury. She paid attention to my needs, and I am now hooked on Pilates!"

Big Bear Pilates is currently offering two specials for first-time students: 30 percent off a private lesson or one free lesson when you purchase five. The special will run through February 28.

For more information, or to find a class, visit bigbearpilates.com.
Jess Madison is a correspondent with the Big Bear Grizzly.