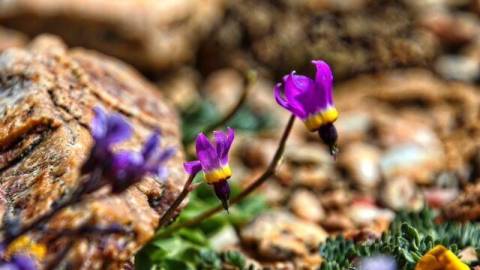 Pebble Plains Spring to Life
Posted: 04/06/23
Unique to Big Bear Lake, the Pebble Plains give us a glimpse into the Valley's ecological past, and a stunning view in the Spring months!
When you think of wildflower viewing, do you ever imagine laying on your belly to see those colorful blooms? Often called 'belly plants', this unique variety of wildflowers is so small, you may just need to put your nose to the ground to see them! Varieties of belly plants are only found in Pebble Plains ecosystems which…get ready for it…only exist in Big Bear Lake!

Wendy Craig - A crop of Shootings Stars and Douglas's Violet next to the widely recognizable Prickly Pear Cactus (Opuntia).
Read this short excerpt from A Guide to the Rare and Unusual Wildflowers of the Big Bear Valley Preserve by Tim Krantz.
"Baldwin Lake is all that naturally remains of a once enormous lake that covered the Valley during the Ice Age. Clay deposits that were left behind in the Big Bear and Holcomb Valleys are too hot and dry in the summer months for pine and other large tree seedlings to grow. Thus, these treeless areas have persisted, and it there that unique alpine plants have taken hold. These clay soil areas covered with alpine plants are called the "Pebble Plains" due to the layer of orange and white quartzite pebbles at the surface of the clay." A Guide to the Rare and Unusual Wildflowers of the Big Bear Valley Preserve by Tim Krantz
Wendy Craig - A stunning close-up of the Shooting Star and what appears to be a Douglas's Violet (Viola Douglasii)
Big Bear Lake and Holcomb Valley are the only two areas in the world that are home to Pebble Plains ecosystems: Currently, two Reserves are working hard to sustain and protect these areas with The Baldwin Lake Ecological Reserve and The Pebble Plain Ecological Reserve in Moonridge.
Baldwin Lake Ecological Reserve: The 156-acre Baldwin Lake Ecological Reserve includes a unique pebble plain plant community as well as vernal wet meadow habitat. The site is also significant for its wintering population of bald eagles (See the Friends of Big Bear Valley LIVE Eagle Cam) and is protected by The California Department of Fish & Wildlife.
Pebble Plains Ecological Reserve - Moonridge: The Big Bear Valley Education Trust is leading an initiative for conservation and stewardship with the Pebble Plain Ecological Reserve in Moonridge. The Reserve is a collaboration project with the Pebble Plains Committee (part of the San Bernardino Mountains Land Trust) that is focused to educating students, visitors, and residents alike about the unique environmental occurrence called the Pebble Plain Ecosystem.