Biking Trails For Beginners & Families
Posted: 04/20/21
1- Alpine Pedal Path
This paved path on the north side of the lake is the perfect route to acclimate to the elevation and adjust to the mountain bike frame. The trail starts on the west side of North Shore Elementary School. It is about 2.5 miles long and wraps up just before the intersection of North Shore Drive and North Shore Lane.

2 - Bristlecone Trail
Starting from the Snow Summit parking lot, head East on your bike towards Bristlecone Dr. You'll be on a forest road to the Pine Knot and Buttercup campgrounds. Once you pass both, you'll see a couple of entrances to the Bristlecone Trail. This loop offers easy dirt terrain with subtle hills, a great intro to trail riding! It's best to map this route out before you start riding.

3- Snow Summit
Bikers looking to take their skills to the next level have two great options: the Summit Bike Park and miles of National Forest trails!
Within the park boundaries, Going Green is your beginner trail of choice. As a beginner rider, you'll want to take the chairlift during the summer to reach this trail.

Outside of the park, Towne Trail - on the West side of Snow Summit - is a mild and flat road. If bikers ride for 3 miles, they will intersect 2N08/Knickerbocker Rd. From here, you can head right to head to The Village, or loop back to the Snow Summit base area.
Graduating to Beginner/Intermediate Routes

Once you get a taste of mountain biking, you'll fall in love! The Valley's trail network offers a vast range of routes so you'll never need to worry about finding the perfect step up.
For cross country riding, you can add on to the Bristlecone Trail by heading up Fern Trail (1E31) to the intersection of Skyline Trail (1E12) or Road (2N10) - this will be at the top of Clubview Dr. If you're heading to the top of Snow Summit, you can either follow 2N10 or Skyline Trail. Once at the top, you can ride back or continue on Skyline Trail to Grandview Point, then ride down Pine Knot (1E01). You'll finish at Aspen Glen Picnic Area.

In the Summit Bike Park, head out to some of the cross country trails like Pirates and Skyline. These will be some of the same routes mentioned above, just with access from the chairlift. You can also try your skills down Blue Steel and Turtle Trail on the front side!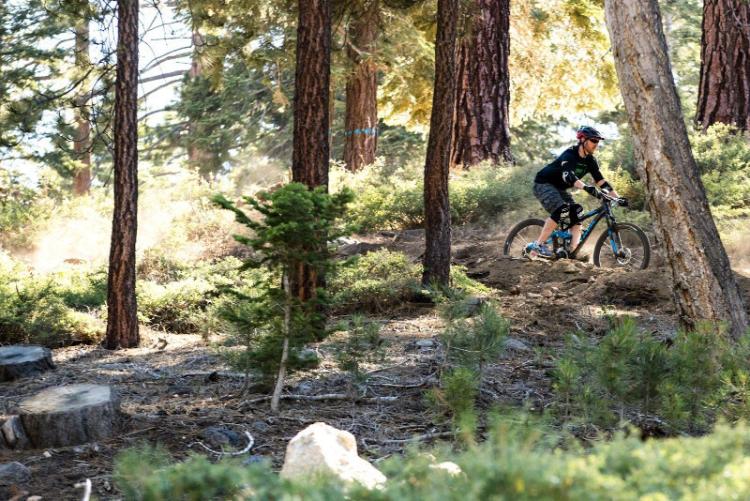 Get Geared Up!
Stop by Bear Valley Bikes, Paddles & Pedals, or Goldsmith's Sports to have the experts help find the equipment that is right for you. From full suspension downhill and trail bikes to beach cruisers, you'll find something for your style of riding.