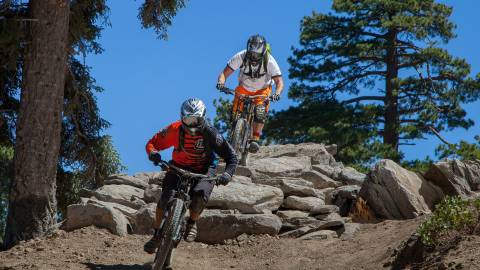 Ace Your First Mountain Bike Race
Posted: 08/06/20
Mountain bike race tips. Assess your current fitness level and time available for training, define your personal reasons for racing, then set your goal.
Big Bear Lake hosts a vast array of athletic events each year. Take a few tips from pro athlete Sarah Jordan on prepping for your first mountain bike race in Southern California's biking capital of the world.
Tips from Seasoned Pro
- From Adventure Sports Journal
So you've signed up for your first mountain bike race! Now what? Follow these tips to help ensure that your upcoming enduro, downhill, or cross-country race is the first of many.
#1 – Set your goals
Assess your current fitness level and time available for training. Define your personal reasons for racing, then set your goal. Is fun your priority? Are you aiming to beat a certain time? Setting an achievable goal will help motivate you through the tough times, while setting you up for the blissful afterglow of race day.
#2 – Get to know the course
Prepare yourself mentally and physically by first taking the time to learn all you can about the race course. You'll want to find out details on the mileage, elevation gain, and nature of the terrain.
Big Bear's National Forest trails are open to the public year-round while Summit Bike Park trails are accessible Spring - Fall. As much as you can, spend time on the race route to get acclimated and familiar with the terrain.
If the race demands more than what you're capable of at the moment, train by gradually increasing your mileage and climbing until you can complete 80% of what the race requires, but with energy to spare. If the terrain is different or more advance than what you're used to, you'll want to spend that extra time working up to and getting comfortable with
#3 – Choose your equipment
Following from #2, knowledge of the terrain you'll be racing on is key. Cross-country races vary greatly from venue to venue, so you can choose from any dirt-capable bike in your stable depending on the terrain. For enduro racing, a dual suspension bike with a dropper post is usually a must.
Tire choice is important — a race in the rocky Sierras will require bigger tires with more traction and stronger casing, while lighter and faster rolling tires would be a good choice for a race on smooth flowing coastal trails.

#4 – Have a race day plan
If the distance and elevation gain will test your limits, start your race at a relaxed pace, then dial up your effort later to finish strong. If you can pre-ride the course before race day, do it! You'll be able to pick out key spots that play to your strengths, and spend time practicing where needed.

Find out if the race organizer will provide water and snacks (or whiskey and bacon) and plan to carry your own nutritional supplies if needed. For best results, eat and drink what is familiar to you and stay away from strange new food choices before and during your race.

Relax, smile, and take a deep breath on the start line. You've made it this far! Remember: You can always walk sections that you aren't ready to ride and pull off the trail to let other riders pass.

#5 – Enjoy the process
From now until race day, relish the thrill of this new adventure! You'll meet lots of like-minded new riding buddies at the event, and you may just get hooked on a new hobby. In the week before the big day, rest more, ride a little less, and get plenty of sleep.
Read full article HERE.
Sarah Jordan recently placed 5th in her age group at Cyclocross Nationals and is a former pro racer. Jordan leads the Race Curious program for Girls Rock Santa Cruz Women's Mountain Biking. Visit them at girlsrock-mtb.com/race-curious to find out more!