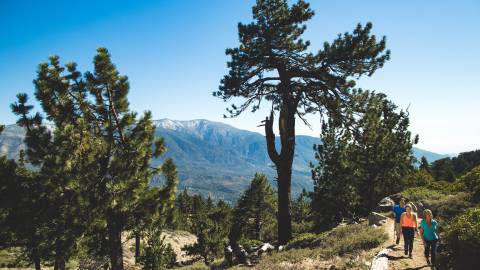 Easy Hikes in Big Bear Lake
Posted: 06/05/23


Looking for great Big Bear Lake hikes, but not ready for a grueling trek? We've compiled a few easier routes for you to start out with; and they're perfect for younger kids too.
Alpine Pedal Path
This is about as easy as it gets.. The fully paved Alpine Pedal Path extends 2.5 miles on the North Shore from Stanfield Cutoff to the Solar Observatory. A diversion about halfway through will take you to the Cougar Crest trail head and the Big Bear Discovery Center. You have options here!
This route is a popular spot for dog walkers, cyclists, and picnickers as it offers some of Big Bear's most scenic views of the lake and ski resorts.
Happy Hills Trail
This trail is ADA compliant, fenced, and paved. Beginning from City Hall, trail users can admire historical buildings and protected wildlife along the .2 miles stretch and use one of the numerous picnic tables along the way.
Woodland Interpretive Trail
The Woodland Interpretive Trail is located directly across from the Carol Morrison Public Launch Ramp on the North Shore. This easy 1.5 mile loop winds through National Forest woodlands and features 16 posted stops that are part of a self-guided tour; pick up a brochure at the trail head.
Several boulder outcroppings are a blast for kids to climb on. This route also offers lake views.
The parking lot requires an Adventure Pass or an America the Beautiful Pass. Parking is also available at the launch ramp and along the North Shore Hwy for free.
Towne Trail
Beginning from the Snow Summit base area, Towne Trail weaves through Big Bear's south side woodlands with views of the north shore and the lake. This easy route is ideal for beginner mountain bikers as well! When the trail forks at Forest Service Road 2N08, loop back for a 2.5 mile round trip or take a right down the hill and finish on Knickerbocker Road near The Village.
Champion Lodgepole Pine Trail
Visit one of the largest Lodgepole Pine trees in the world! This easy trek takes you through a lush forest to Bluff Lake where bright green ferns cover the forest floor. Hikers can take in the colorful wildflowers along the stream and wander among the corn lilies on their way to the Champion Lodgepole Pine.
Hiking the trail begins by driving up Mill Creek Road (Forest Road 2N10-dirt road) for 4.5 miles, then turning right on 2N11 and continue 1 mile to the trailhead. Vehicles with high ground clearance recommended.
Discovery Center Nature Trail
This quarter mile trail lets Discovery Center visitors see the flora and fauna of Big Bear Lake. Volunteer naturists also lead guided tours of the trail on occasion. Follow their event schedule here.

Safety First
Hiking in the mountains should be a fun experience. Be sure you're prepared with plenty of sunscreen and water. Always stick to marked trails to avoid getting lost and to protect the surrounding environment. Last but not least, keep our trails clear of litter! Learn all about how to Care For Big Bear.