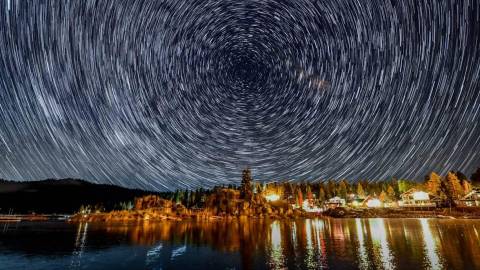 Best Places to View Big Bear Meteor Showers
Posted: 08/12/23
Meteor showers are a regular celestial phenomenon and Big Bear is the ultimate viewing spot with its dark skies away from big city lights. Browse these areas and find the best place to look to the skies for the ultimate light show!
Holcomb Valley Road
Off of North Shore Dr, Holcomb Valley Rd sits away from the central Big Bear area and most light pollution in the valley.
Woodland Trailhead/Cougar Crest
These national forest trail heads sit away from lighted areas making night sky viewing optimal. An Adventure Pass is required to park in these areas.
PCT Crossover Hwy 18
Hunker down into the turnout along Hwy 18 (Lucerne) where the Pacific Crest Trail crosses the road. Be mindful of cars in this area.
North Shore Lane
This byway off of North Shore Drive offers plenty of roadside parking. Find your viewing spot from here lakeside or forest side.
City Parks
Many of the parks in the Big Bear Valley offer clear views of the night sky. These are great places to spread out but some parks may have night time lights.
Boulder Bay Park
Veteran's Park
Rotary Park
Meadow Park
Sugarloaf Park
Ranger Rd 2N08/Towne Trail
To access this area, park in the Pennsylvania Parking Lot in The Village and walk up Knickerbocker until you reach Ranger Rd 2N08 to the left. Continue up this road. This is a steep, unpaved service road that passes by Towne Trail in a clearing with open night sky views.
Happy Stargazing!