Words to Inspire
Tips, Must-Dos, and General Words to Inspire the Ultimate Big Bear Getaway!
---
Planning Your Fall Fishing Adventure
Posted: 08/31/20
Where to go and how to prep for an autumn fishing excursion!
Fall Colors
Posted: 08/19/20
Fall for Big Bear's autumn hues.
Fun Labor Day Weekend Activities & Events
Posted: 08/14/20
Thoughts of Labor Day typically invoke memories of park side lounging, delicious BBQs, and valuable time with friends & family.
Ace Your First Mountain Bike Race
Posted: 08/06/20
Mountain bike race tips. Assess your current fitness level and time available for training, define your personal reasons for racing, then set your goal.
What to Look for in a Bike Rental
Posted: 08/03/20
Renting a bike is a great way to enjoy Big Bear Lake with the family and get a great workout while doing so.
Get To Know Big Bear: Apples Afternoon Tea
Posted: 07/17/20
Take tea for your mind, body, and soul!
Guys Getaway In Big Bear
Posted: 07/15/20
Looking to plan a guys getaway weekend? Whether you're planning your best friend's bachelor party or just a fun weekend trip, Big Bear is the place...
Above It All: Escape the Las Vegas Heat!
Posted: 07/10/20
While Las Vegas is plenty of fun, the summer temperatures in the city of "sin" are no joke. Escape to the mountains where the alpine breeze is the...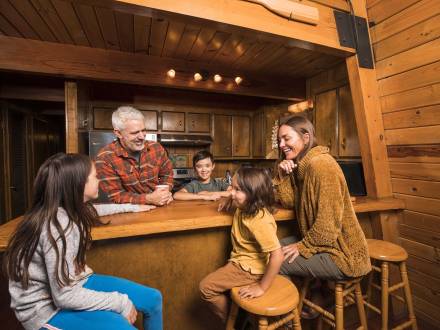 What to Look For In A Big Bear Cabin Rental
Posted: 07/06/20
Are you planning an escape to Big Bear Lake in California? Look for these top amenities when finding the perfect cabin rental for your getaway.
Get To Know Big Bear: Hacienda Bar & Grill
Posted: 06/16/20
Get to know local restaurant Hacienda Bar & Grill and all they do for our community!
Campfire Safety & Wildfire Prevention
Posted: 06/12/20
Camping offers so many joys for families and outdoor enthusiasts, and nothing completes the experience like a crackling campfire to roast marshmallows....
Wildlife Safety on the Trails
Posted: 05/27/20
Big Bear Lake is home to numerous wildlife species. When enjoying the National Forest it is important to respect the natural flora and fauna for your safety...