Family Fun In The Fall!
Posted: 08/01/22
Dive into Family Fun this Fall at Big Bear Lake!
Plan your family getaway during the most colorful time of the year! Fall colors in Big Bear Lake are truly breathtaking, and numerous family friendly activities allow you to take in the beauty while exploring and learning about our forest community.
Big Bear Alpine Zoo
Meet our wildlife advocates at Big Bear Alpine Zoo! This rehabilitation facility cares for sick and injured animals and successfully returns 90% of them to their forest habitat. For those animals that cannot be returned - due to severe injury or imprinting - they stay on as permanent Zoo residents and help keepers educate visitors and locals about the impact humans have on our natural environment.
Learn more about this facility and how to visit on our Zoos & Wildlife page.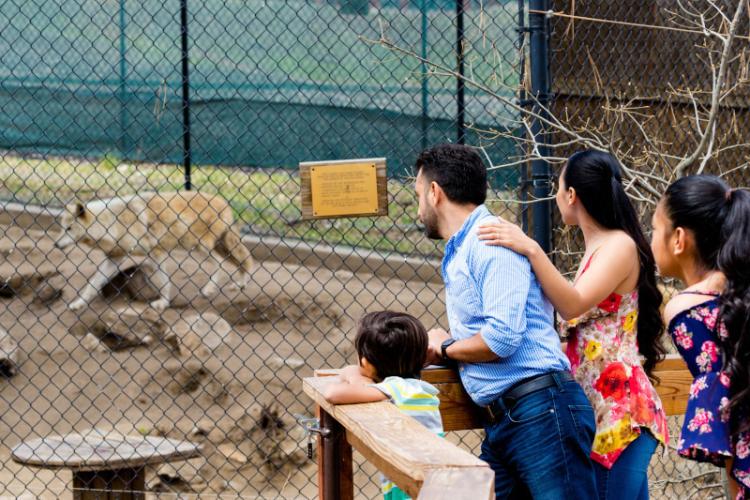 Scavenger Hunts
Get to know interesting facts about Big Bear and it's history during an educational and engaging scavenger hunt with Urban Adventure Quest and Mountain Room Escapes!

Urban Adventure's 1.5 hour game includes a walking tour of The Village and beyond guided by clues and instructions from your smartphone. You'll solve puzzles and complete challenges starting from the Big Bear Chamber of Commerce office - located at 630 Bartlett Rd. Pricing is $30 for a team of 2 - 5 people, visit UrbanAdventureQuest.com and use the Promo Code: SaveBB for 20% off.

While indoor escape room experiences are currently closed, Mountain Room Escape's has creatively designed the Golden Key Time Travel Agency game - an outdoor scavenger hunt in and around The Village area. You will be provided a guidebook containing a map with 11 locations and puzzles, an answer sheet, and a phone number to call to ask your game master for questions or hints, and a background story. This is a 1.5-3 hour game with about 2 miles of walking.
Gold Rush Mining Adventures
You may not know that Big Bear Lake once was one of the most lively and successful mining towns during the California Gold Rush. Bustling wild west towns sprung up to accommodate families that moved into the Valley in hopes of striking it rich. Today, our community remembers the 'golden' days with organized tours and experiences like gold and treasure mining at Gold Rush Mining Adventures.
Visitors - or should we say prospectors? - have the opportunity to mine for all sorts of treasures in a themed exploration. Dig from a pit, excavate from hardened materials, seize items from hidden spaces, crack open a geode, or pan for gold from a running water sluice. Best of all, you're sure to find your 'Eureka' moment with take-home treasures from your adventure!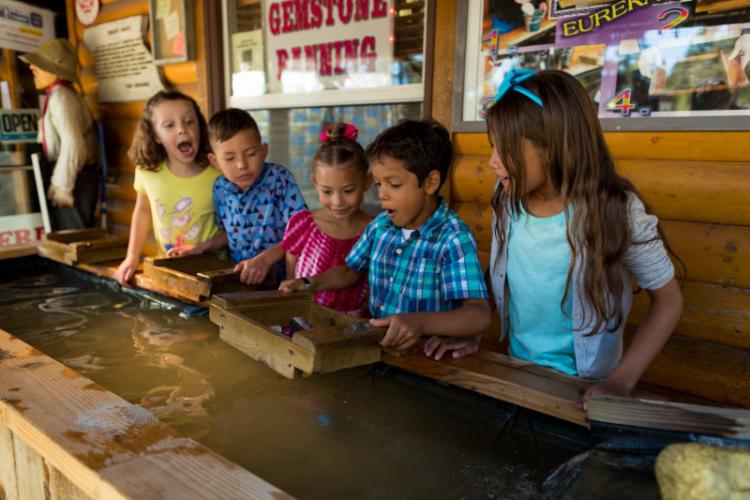 Big Bear Ropes Course
Climb to new heights - literally! - when you step into your harness to swing, dangle, zip, and wobble your way across 42 obstacles at the Big Bear Ropes Course. This thrilling adventure features two levels of suspension bridges, cables, a zipline, and more at a whopping 35 feet in the air! Visit our Ropes Course page for info and pricing.
Big Bear Ropes Course also features a high speed Go-Karting track the whole family will love. Check it out on our Go-Karting page.